Your new favourite podcast - Unlearn to Learn
Are you a medical student, work in healthcare or simply curious to know more about obesity?
Then your new favourite podcast series, Unlearn to Learn, is here for you. Join us across 2022 as we examine the science and real story behind the treatment and management of obesity.
There is something to be learned (or better still, un-learned) in each episode.
Brought to you by World Obesity and SCOPE E-learning, you will be challenged to rethink everything you thought you knew about obesity. You'll improve your knowledge through unique insight, straight talking explanation and most importantly, any judgement will be left at the door.
With the help of renowned medical practitioners and professors from around the world, Unlearn to Learn will untangle the myths and misconceptions around obesity, busting myths and using science and data to give you the facts you need.There are 3 episodes ready to download now, and more set to be released until autumn 2022.
Follow Unlearn to Learn and join us as we explore topics ranging from stigma and mental wellbeing, through to bariatric surgery, childhood obesity, nutrition and much, much more.
Unlearn to Learn
Listen, and help change the broken promises on obesity
The World Obesity Atlas 2022, predicts that one billion people globally, including 1 in 5 women and 1 in 7 men, will be living with obesity by 2030. That means that not only will every country miss the 2025 WHO target to halt the rise in obesity at 2010 levels, but in fact the number of people with obesity is on course to double across the globe.
Despite this, there is still a continued misunderstanding, underinvestment in and stigmatisation of obesity that is driving this systemic failure. We believe that change must and can happen. It starts with making sure quality care is given to all patients living with obesity. To achieve that, we need to improve the quality of knowledge and training in primary care. Without this, bias and outdated ideas will continue to ensure people living with obesity do not get timely attention.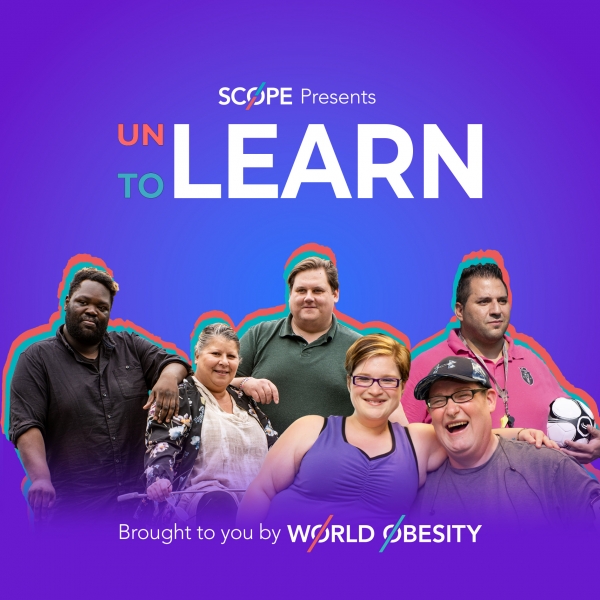 Spread the word: Follow, like, share, review
We want to build a Unlearn to Learn community. That starts with helping to spread the word about this series.
Come and say hello!
We'd love to see your reviews and feedback – let us know what you think, and any questions you have with #UnlearntoLearn on Twitter.
FEEDBACK
Keep up to date with new episodes!
Want to know when we release new episodes?
SIGN UP
Support Unlearn to Learn
Are you part of an organisation, medical society or healthcare setting that wants to promote Unlearn to Learn?
Drop us an email enquiries@worldobesity.org and we will be happy to connect.
Unlearn to Learn is produce in partnership with The Podcast Guys.
CONTACT US
Episode 1 - Myth Busting
Unlearn to Learn is all about challenging what we think we know about obesity. To launch the series, World Obesity host Alexander French is joined by Dr Arya Sharma, Professor Emeritus of Medicine & Past-Chair in Obesity Research and Management at the University of Alberta, and the Past-Clinical Co-Chair of the Alberta Health Services Obesity Program.
There are countless myths about living with and managing obesity. For example, a common myth is that obesity is primarily caused by inactivity, a lack of physical exercise and/or unhealthy dietary habits. Almost all preventative and therapeutic programs for obesity focus on curbing an unhealthy diet and physical inactivity and thereby neglect other possible contributors to the disease.
In this episode, Dr Sharma explores common misconceptions with Alexander, from genetics to management programmes, and even how terminology and perceptions around obesity can impact patients.
Episode 2 - Ethnicity and Weight Stigma
Episode 2 focuses on the variations of obesity across different ethnic groups – how weight stigma and attitudes towards obesity vary greatly across cultures.
To discuss this and more, Alexander is joined by Dr Fatima Stanford. Dr Stanford is an obesity medicine physician scientist, educator, and policy maker at Massachusetts General Hospital and Harvard Medical School.
As well as analysing and examining the myriad cultural differences relating to obesity, Dr Stanford takes Alexander through a history of bias in the media, and how healthcare professionals and practitioners can avoid stigma and influence from harmful stereotypes.
Episode 3 - Mental Wellbeing and the Patient Perspective
In this episode, we shift the format slightly, to a discussion between a specialist and a patient, to hear how the treatment of obesity impacts on mental wellbeing. We'll be joined by Professor Carel Le Roux from the University College Dublin, and Wendy Reaser, a patient living with obesity from Saskatchewan, Canada.
Carel is Director of the Metabolic Medicine Group. He obtained his PhD from Imperial College London, and then moved to University College Dublin as Chair in Experimental Pathology.
Wendy Reaser is a patient living with obesity, and with Carel she reveals the impact obesity has had on her mental wellbeing, the correlations between BMI and depression, and the impact of treatments for mental health on weight.
It's a frank and fascinating insight, with patient and doctor offering honest and detailed advice and recommendations on how the medical industry can improve the treatment of obesity.
Ready for SCOPE E-Learning?
Our mission at World Obesity is to make world-class training accessible to healthcare professionals everywhere. Whatever stage of your career, Strategic Centre for Obesity Professional Education (SCOPE) empowers you with the knowledge and skills you need to provide the best possible support to patients living with obesity.

Register for SCOPE E-Learning to discover dozens of free, CME accredited 30+minute modules written and narrated by our international faculty of experts.
One quick form, no commitment required.
Available in English, Portuguese, Spanish and French. Want to try a module first? Click here to preview one of our courses!
Get started today