Ghana CVD, diabetes and obesity roundtable event
SASNET Ghana, a World Obesity member organisation, held a roundtable discussion on CVD, diabetes and obesity earlier this year.
---
Background
SASNET GHANA has a mission and a vision of working closely with the Ministry of Health, Non Communicable Disease Control Programme of the Ghana Health Service (NCDCP-GHS) and other like-minded organisations, to reduce the burden of stroke, CVD, hypertension, obesity and diabetes in Ghana.
Comprehensive statistical information gained from a CVD score card project which commenced in 2022 revealed disturbing trends in terms of the economic burden of CVDs.
The comprehensive statistical information on the score card, along with the presentation on the CVD and Diabetes roadmap, provided for a two-day productive engagement to accomplish objectives to provide a forum for stakeholders working in the CVD, diabetes and obesity health space to identify barriers to and practical solutions for secondary and primary prevention of CVD, diabetes and obesity and then develop a national plan of action for implementation.
The two-day roundtable discussion took place at the Aruba Hotel in the Eastern Region of Ghana from 30 - 31 March 2023, with over 50 participants, both in-person (35) and virtual (22), who were from government institutions, agencies, academic institutions, CVD experts, etc.
---
Aim and Objective
The aim of the roundtable discussion was to support and compliment national efforts towards achieving the United Nations Sustainable Development Goals, specifically goal number 3 - ensuring healthy lives and promoting well-being at all ages, and other global declarations on cardiovascular diseases such as the CVD and diabetes roadmap by the World Heart Federation (WHF).
Aburi- Ghana's CVD roundtable discussion provided a national meeting forum for stakeholders to share knowledge and experiences through discussion and identified specific barriers to, and secondary and primary prevention of, CVD, diabetes and obesity.
---
Discussions
There were statements and presentations from a wide range of experts in the relevant fields. These included:
Mrs Juliet Anaglo, a Physician Assistant and research group member for SASNET-GHANA, welcomed participants on behalf of Dr Ben Jabuni, President of SASNET.
Professor Robert Heine, Vice President of Eli Lilly and a Medical Affairs and Diabetes Expert, spoke about the escalation of the numbers of diabetes cases and challenged policy makers to make quality healthcare their priority.
Mrs Elizabeth Esi Denyoh the Chairperson-Elect for the International Diabetes Federation (IDF) Africa region, tasked the Food and Drugs Authority (FDA) to check unapproved advertised products in the various markets and on our screens, so patients can receive proper medical treatment.
Dr Hafez Adam Taher, Director of External Health Cooperation at the Technical Coordinating department of the Ministry of Health, delivered the keynote address on behalf of the health minister. The minister said that Ghana is at a risk of losing its workforce as a result of CVD, diabetes and obesity related issues. He advised that there is a need to adopt healthy lifestyles and called on health partners to help set up Ghana's health systems in order to work on this.
Professor Laurence Sperlings, Chair of the WHF Roadmap on preventing CVD among people living with diabetes. Professor Sperlings addressed the barriers for people with CVDs, including acceptability, affordability, accessibility and availability.
Madam Jolanta Blinska of the World Patients Alliance (WPA), encouraged government to have policies in place for proper healthcare and spoke about the need for patient engagement and empowerment.
Dr Hannah Brinsden, Director of Policy and Programmes at the World Obesity Federation, talked about the global obesity landscape. She said the current trend is that obesity rates have doubled and that up to half of the world's population, including Ghana, is projected to be overweight by 2023. Dr Brinsden highlighted Ghana's obesity situation and called on government(s) and other stakeholders in the health space to prioritise prevention, treatment and management of obesity in the country and across the globe.
Mr David Nartey of NCDCP-GHS, shared Ghana's CVD and diabetes situation.
Mr Labram Musah, National Coordinator of the Ghana NCD Alliance, spoke on situational analysis of childhood obesity in Ghana and the way forward.
Mr Benjamin Anabila, Director for The Institution of Leadership and Development, spoke on elimination of trans-fat.
Mr Mark Atuahene, Acting Head Public Health and Health Promotion Ministry of Health, Ghana and a lead person for the Ghana's CVD Score Card Technical Working Group, was the final speaker. His topic was on the case for supporting the CVD Score card project.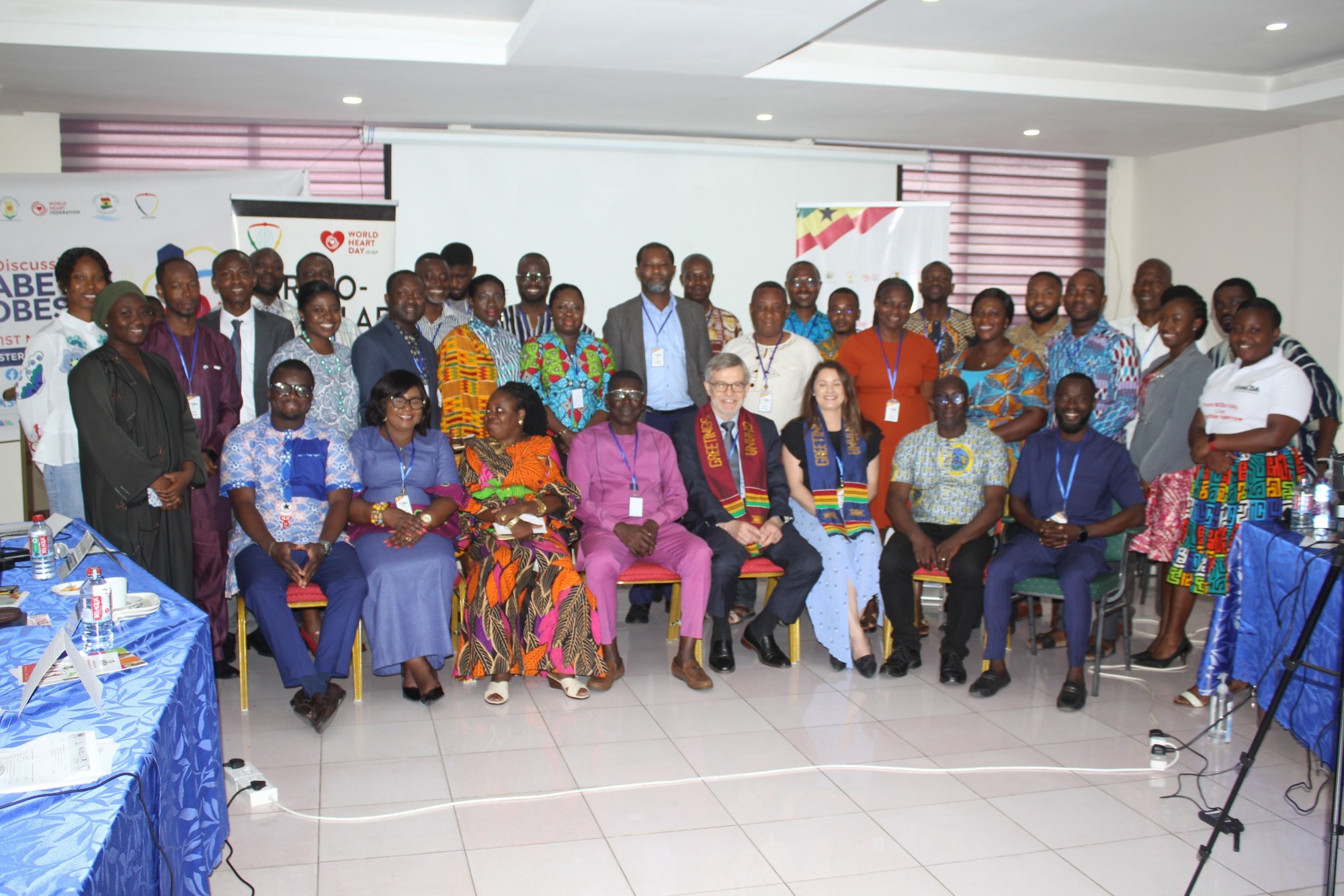 Conclusion and way forward
Ms Lana Raspail, Science Programme Manager for WHF, briefed the house about the next steps which include developing an action plan that will include identified solutions at the patient level and health system level. Relevant stakeholders and partners will be identified and working groups formed to implement the action plan.
Mr Ad Adams Ebenezer, Executive Director of SASNET-Ghana and coordinator for Ghana's CVD Score card and the CVD, diabetes and obesity roundtable discussion, said that participants would be further engaged and be involved at all levels to implement the recommendations from this two-day meeting. He further added that in order to keep up with the discussion on addressing CVD, diabetes and obesity in the country, a WhatsApp/listserv platform named Alliance for CVD, Diabetes, Obesity and Hypertension - Ghana (ACDOH-Ghana) would be created with all participants invited to join. He thanked all participants for their time and contributions towards the success of the two-day meeting.
More about our Members
If you would like to find out more about our members and what they are doing around the world, have a look at our member section here.
Members