Farewell to top obesity journal editors
At our Annual General Meeting on 13 July 2022, World Obesity paid tribute to the outgoing editors of two of our internationally esteemed official journals – Prof. David York, Editor-in-Chief of Obesity Reviews and Prof. Nick Finer, Editor-in-Chief of Clinical Obesity.
David and Nick have been instrumental in building the respective journals into high quality and prominent publications in the field of obesity and its comorbidities. Their leadership, dedication and expertise have been invaluable in the success of these journals.
---
Obesity Reviews: Prof. David York
---
David has devoted 24 years of service to World Obesity in a number of roles, most recently as Editor-in-Chief of Obesity Reviews from January 2011 to June 2022 and Chair of the Publications Committee from 2014 to June 2022. Prior to that, he held the position of Executive Committee Member and Treasurer for the former International Association for the Study of Obesity (IASO), which is now World Obesity, and also served as Chairman for Obesity International Trading Ltd (Trading company of the IASO).
David played a significant role in many major changes that took place within World Obesity over the years, not least being part of the team to oversee the successful merger of the International Obesity Task Force (IOTF) and IASO into the current World Obesity Federation and the establishment of the London office HQ.
David also initiated the Stock Conference program – designed to be smaller and more focused meetings to allow plenty of discussion time and provide a unique opportunity for young graduate, doctoral or postdoctoral students and clinicians from around the world to interact with leading scientists and clinicians in a particular field.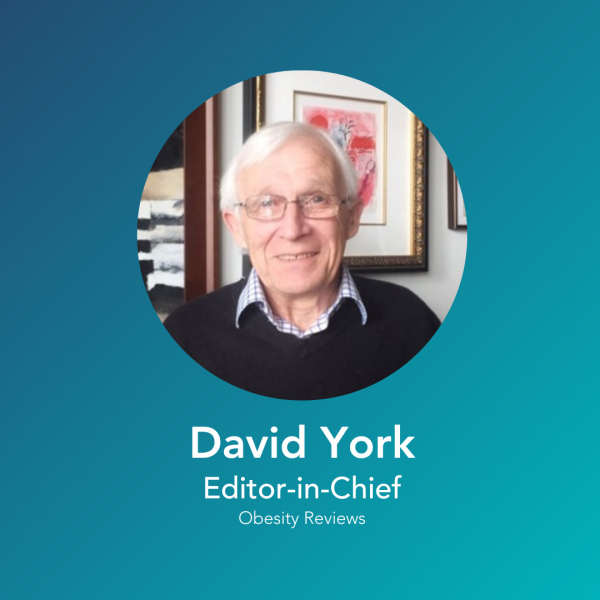 During David's tenure as Editor-in-Chief, Obesity Review's Clarivate Impact Factor increased from 7.038 in 2011 to 10.867 in 2021 when it was the highest ranked obesity journal by Impact Factor and the 9th highest ranked journal in the Endocrinology & Metabolism field.
The journal has gone fully online, more and more manuscripts are now open access, access to the journal has expanded worldwide, and the number of manuscript downloads has increased substantially with the help of current publishers Wiley.

"The ability to lean on my editorial board and the huge panel of reviewers has not only facilitated the review process but your comments have helped to give me personally a vast new insight into fields in which I had no expertise. I would like to offer my sincere thanks to everyone who has contributed to the success of the journal and facilitated my time as Editor-in-Chief."
Prof. David York
---
Clinical Obesity: Prof. Nick Finer
---
Nick was the founding Editor-in-Chief of Clinical Obesity and led the publication of this journal from 2011-2022. He is Honorary Clinical Professor at the National Centre for Cardiovascular Prevention and Outcomes, UCL Institute of Cardiovascular Science, and was Senior Principal Clinical Scientist, Global Medical Affairs, with Novo Nordisk in Denmark from 2016-2022 where he supported company-wide obesity-related projects.
He is past Chair of the UK Association for the Study of Obesity and World Obesity Federation Clinical Care, where, amongst other roles, he was responsible for developing the SCOPE educational programme.
Nick has held positions with the UK Government Advisory Group on Obesity, the National Institute for Health and Care Excellence (NICE) Public Health Advisory Group, European Association for the Study of Obesity, and the European Society of Hypertension. He received the Bisset Hawkins Medal, a triennial award for work in advancing sanitary science or in promoting public health.
Additional roles held by Nick over his impressive career include being the Director of the Centre for Obesity Research for 19 years and holding positions as Consultant, Honorary Consultant and Visiting Specialist at various university hospitals.
Nick's research on obesity and its related complications is represented by 200 peer-reviewed papers and reviews, and more than 23 book chapters. His range of relevant skills and contributions to Clinical Obesity over the past 11 years have been invaluable. This journal was indexed in MEDLINE and PubMed, and in 2020 it achieved a Cite Score of 4.9. We anticipate the first Impact Factor being released for Clinical Obesity in 2023.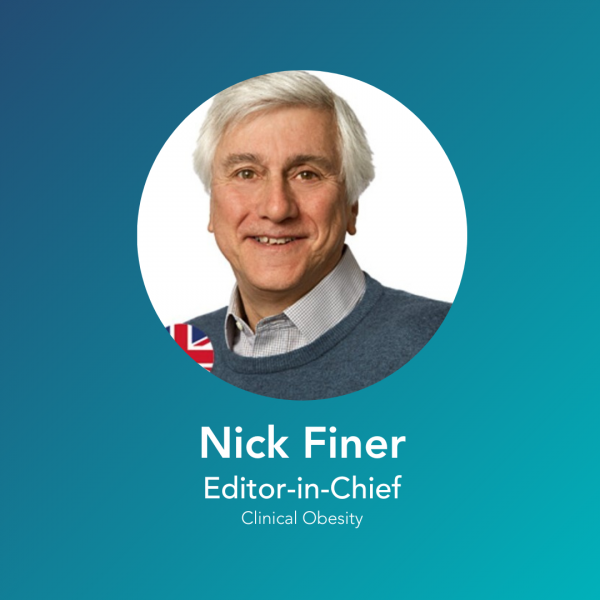 Obesity Reviews
Obesity Reviews is the highest cited obesity journal as measured by the Clarivate Impact Factor and publishes review articles from disciplines related to obesity and its associated comorbidities. The journal contributes to education and inter-professional development by providing new insight into all aspects of the disease including underlying causes, treatment, management and prevention, public health, policy and behavioural components as well as the basic science underpinning the etiology and pathophysiology of obesity and its comorbidities.
Articles published in Obesity Reviews are of particular interest to all professionals concerned with understanding obesity and its associated comorbidities and the optimal approaches for their treatment and prevention. The reviews published in this journal will provide important insight for all health-related professionals including endocrinologists, cardiologists, gastroenterologists, obstetricians, psychologists and psychiatrists, and bariatric physicians.
Find out more about Obesity Reviews and browse current and past content here.
Clinical Obesity
Clinical Obesity is an international peer-reviewed journal publishing high quality translational and clinical research papers and reviews focussing on obesity and its comorbidities.
Key areas of interest include: patient assessment, classification, diagnosis and prognosis; drug treatments, clinical trials and supporting research; bariatric surgery and follow-up issues; surgical approaches to remove body fat; pharmacological, dietary and behavioural approaches for weight loss; clinical physiology; clinically relevant epidemiology; psychological aspects of obesity; comorbidities; and nursing and care of patients with obesity.
Find out more about Clinical Obesity and browse current and past content here.
The new Editor-in-Chief of Obesity Reviews from July 2022 is Brian Oldfield, Professor of Physiology at Monash University, Australia and President of the Asia Oceania Association for the Study of Obesity.
The new Editor-in-Chief of Clinical Obesity from July 2022 is Shahrad Taheri, Professor of Medicine at Weill Cornell Medicine, Qatar.
We wish David and Nick the very best for their future endeavours and would like to express our heart-felt gratitude for their contributions to the journals' success.
Find out More
Click here to read more about all four of our scientific, peer-reviewed journals.
Our Journals