Elevating obesity at the 78th UN General Assembly
78th United Nations General Assembly: 17 - 23 September 2023, New York
---
The World Obesity team were actively involved in many events, forums and meetings at the 78th UN General Assembly, to ensure that obesity is high on the political agenda.
---
Our week started in Central Park as we gathered to join the health community in the 'Walk the Talk New York: Health for All Challenge'. We then hosted our highly-anticipated annual Global Obesity Forum which brought together a dynamic group of obesity stakeholders.
Over the jam-packed week that followed, our team attended, chaired or participated in events ranging from a high-level roundtable on NCD financing, to an event on preventing childhood obesity, the global gathering of Heads of State on NCD Compact, and many meetings with members, allies and partners.
Below is a summary of some of the key events that took place during this high-level week:
UNGA 78
Walk the Talk: New York
On the Sunday morning leading up to the UN General Assembly week, the World Obesity team gathered at Central Park to join the health community in the Walk the Talk New York: Health for All Challenge, which provided a healthy kickstart to the week.
Our President-Elect Dr Simón Barquera and board members Ogweno Stephen and Amber Huett-Garcia joined other colleagues, members and friends on an approximately 4 mile walk around the Park, and were thrilled to enjoy a brief chat with WHO Director-General, Dr Tedros Ghebreyesus.
Watch highlights here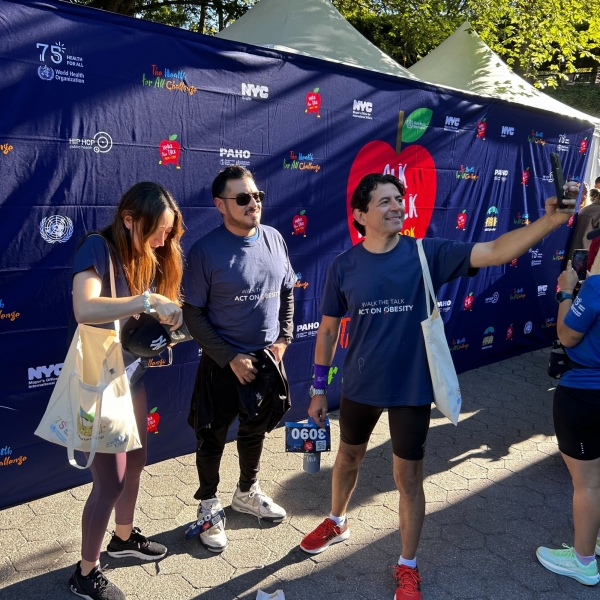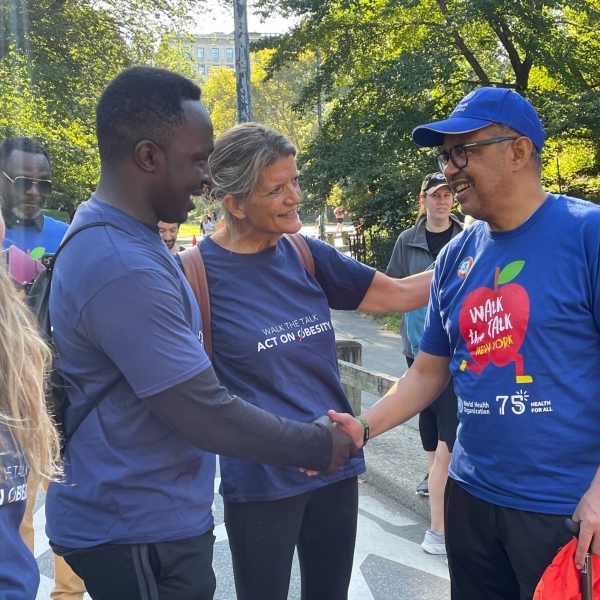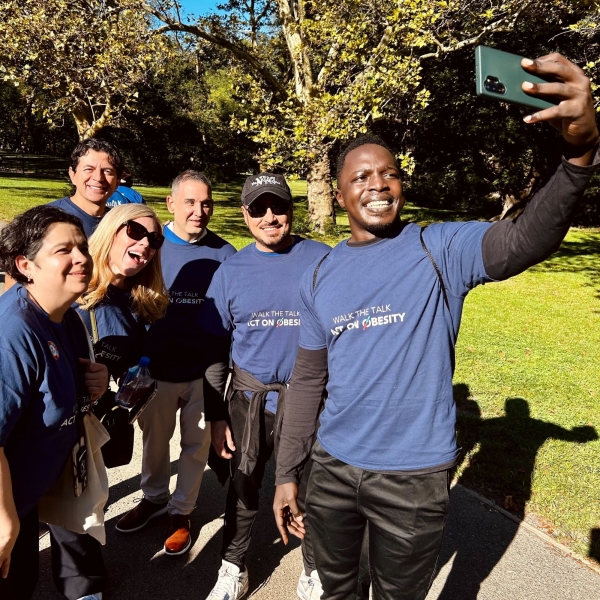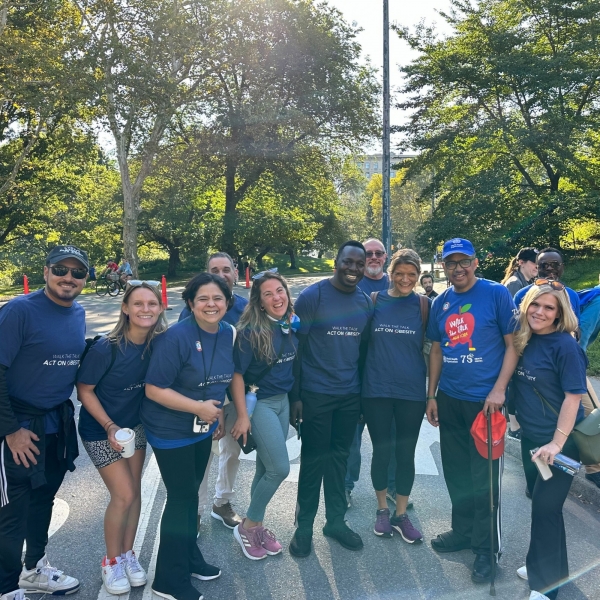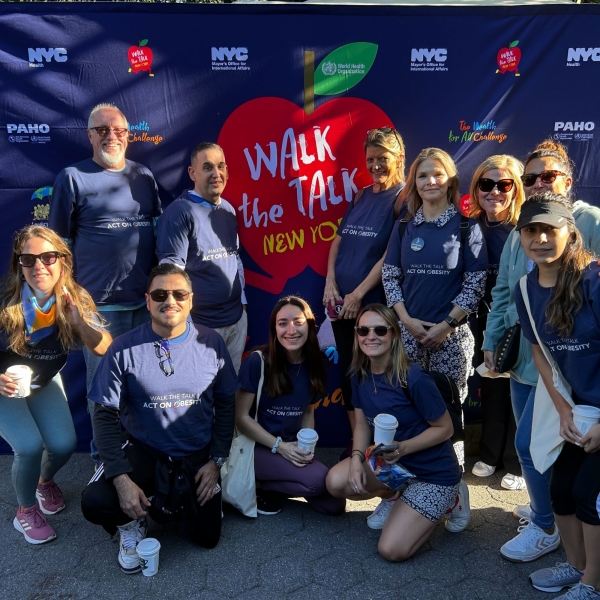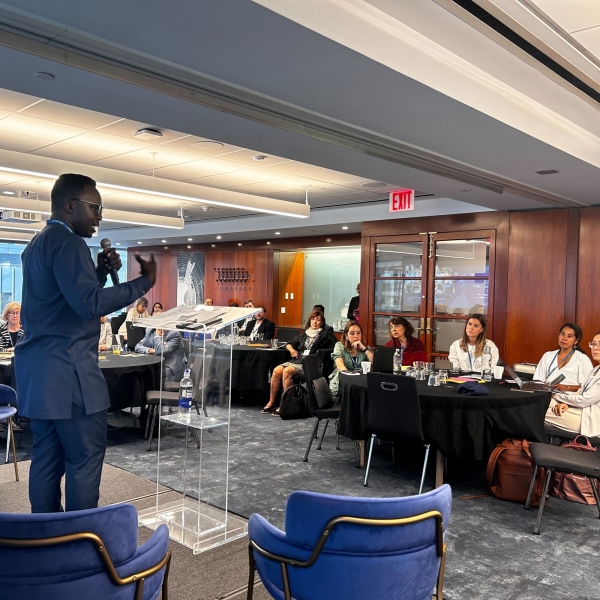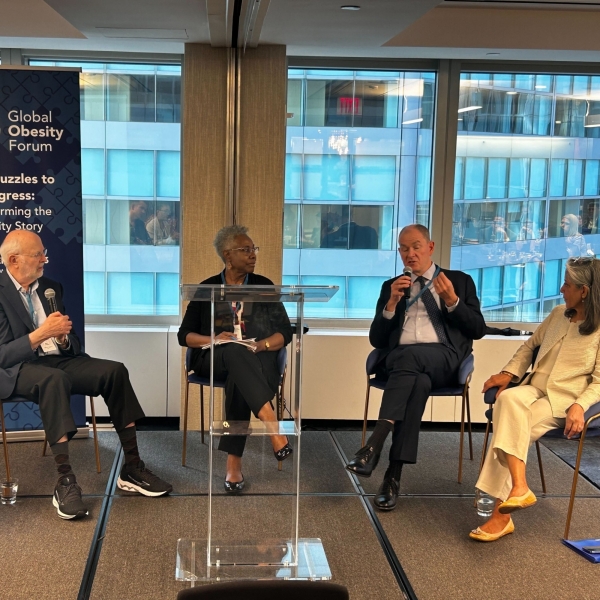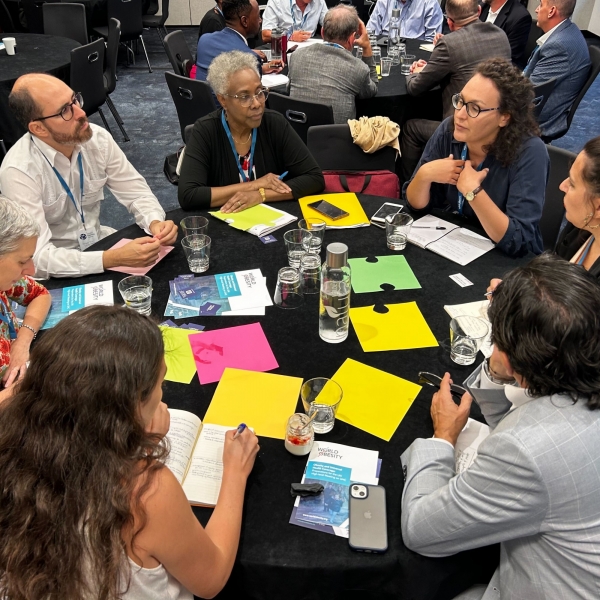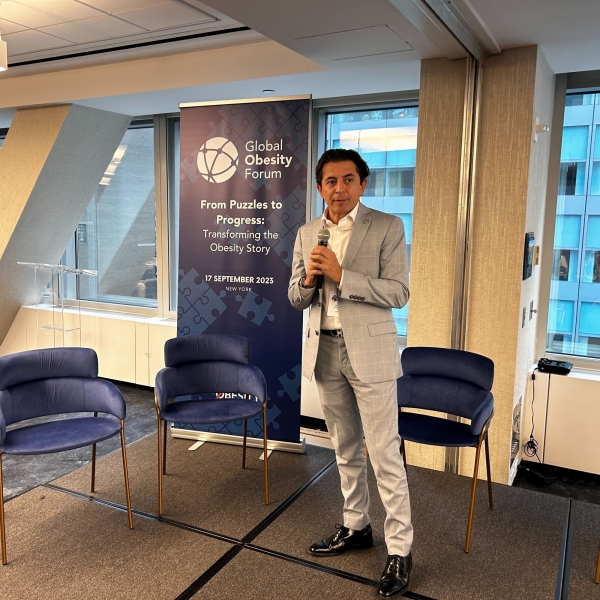 Global Obesity Forum 2023
UNGA 78 offered an opportunity to elevate awareness and action on obesity through the Global Obesity Forum.
Close to 60 stakeholders gathered from multiple sectors, including experts and allies from The World Bank, PAHO, Georgetown University's O'Neill Center, World Economic Forum, Healthy Caribbean Coalition, European Association for the Study of Obesity (EASO), The Obesity Society, Global Health Advocacy Incubator, Vital Strategies, George Institute, Brazil's Desiderata, UNICEF, Mexican Obesity Society, GOPA, NCD Alliance, American Heart Association, Coalition for Americas Health, International Diabetes Federation, Pacific Community-SPC, University of North Carolina at Chapel Hill, and ten private sector partners.
These thought leaders and changemakers from across the world united to discuss solutions, in the hope that our shared story may be one step closer to halting the rise of obesity and achieving health for all.
Global Obesity Forum 2023

UNGA 78
SDG Summit
The 2030 Agenda for Sustainable Development, with its 17 Sustainable Development Goals, has been embraced by governments, businesses and community groups around the world as the organising principle for efforts to end poverty, promote prosperity, better education, health and jobs, and recovery from the COVID-19 pandemic - while also protecting the environment and combating climate change.
The SDG Summit this 2023 marked the mid-point of the implementation of the 2030 Agenda and provided an opportunity for the world leaders and people to assess progress so far and respond to the impact of multiple and interlocking crises facing the world, with a Political Declaration of Heads of State and Government as a result.
Political Declaration of Heads of State and Government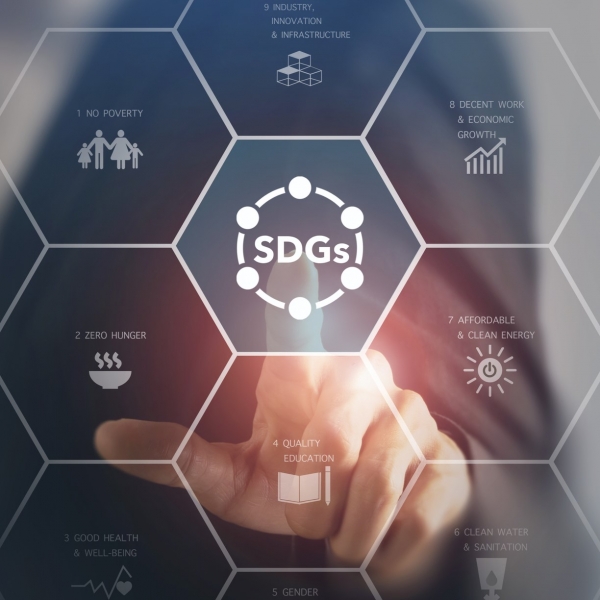 Health Financing Round Table
One of the central themes of the Global Obesity Forum was the absence of significant financing for obesity, and this challenge is also seen in the wider noncommunicable disease agenda, where the percentage of global health funding allocated to NCDs remains stubbornly low.
The NCD Alliance, World Bank, World Diabetes Foundation and Access Accelerated hosted an invitation-only roundtable on the topic of NCD funding with foundations, governments, development banks, and civil society including people living with NCDs. Held two days before the UN HLM on UHC, the session included success stories and pathways for integration and was moderated by health economist Rachel Nugent of RTI International, who has been the lead on the groundbreaking economic impact work done by RTI and World Obesity.
World Obesity CEO Johanna Ralston and EASO's Jacqueline Bowman-Busato also joined the event. Johanna noted that investment in obesity is an NCD prevention strategy, given that obesity is a driving factor behind a large number of deaths due to diabetes, CVD and other NCDs, and that insurance can be an important partner from the private sector. A Global Dialogue on Financing for NCD Prevention and Control (2GFD) is due to take place in 2024 to advance these topics.
UNGA 78
Preventing childhood obesity: A climate & sustainability priority
Our CEO, Johanna Ralston, chaired a high-level event hosted by the Ministry of Foreign Affairs of Denmark and UNICEF, held on the side lines of the 2023 SDG Summit, that explored the interconnected childhood obesity and climate agendas, the potential for double duty policies to prevent both childhood obesity and environmental degradation through our food systems, and specifically how cities can support achievement of the global goals for nutrition and health by putting children at the centre.
Key speakers included Dr Fabio Gomes, Director of Nutrition, PAHO, and a panel discussion was held with experts from around the world participating including Dr Karen Sealey, Director of Healthy Caribbean Coalition.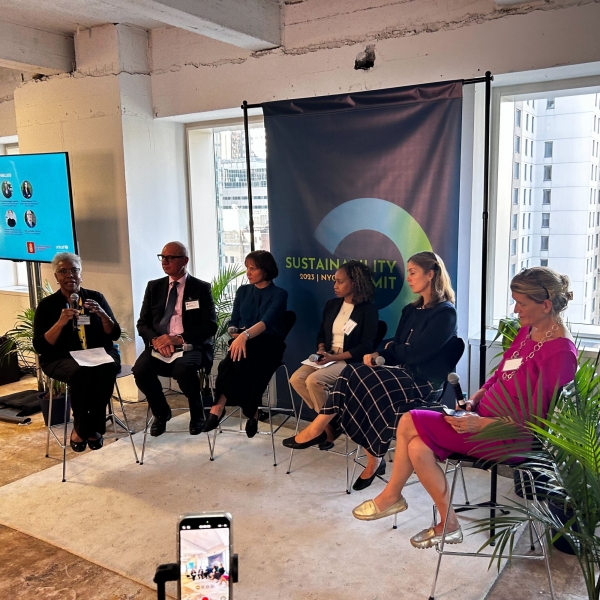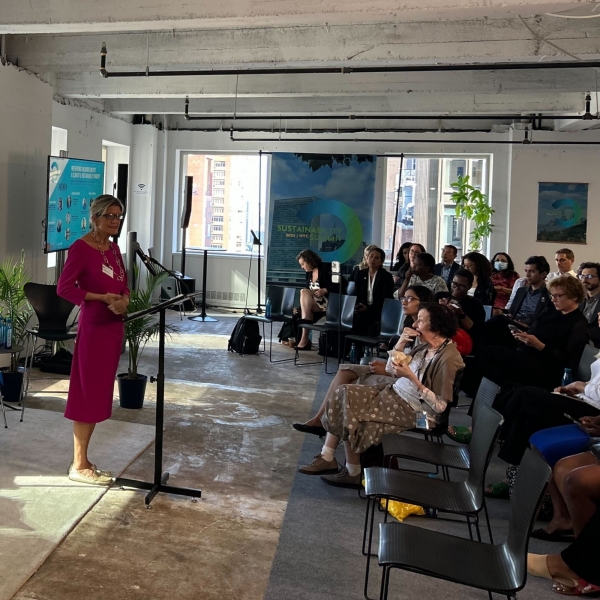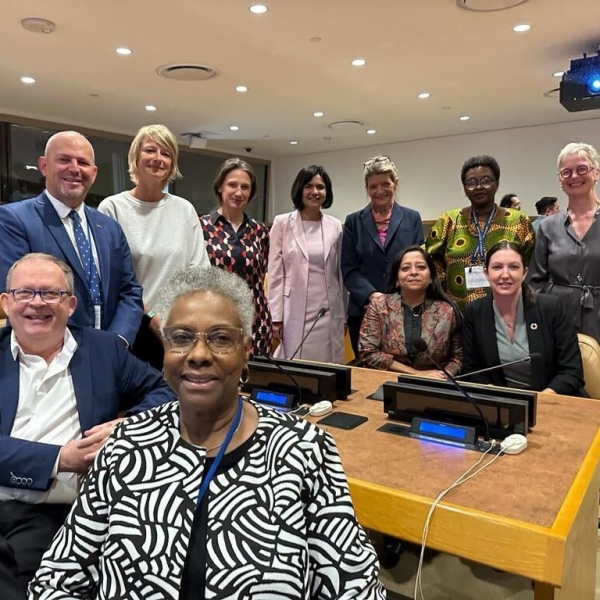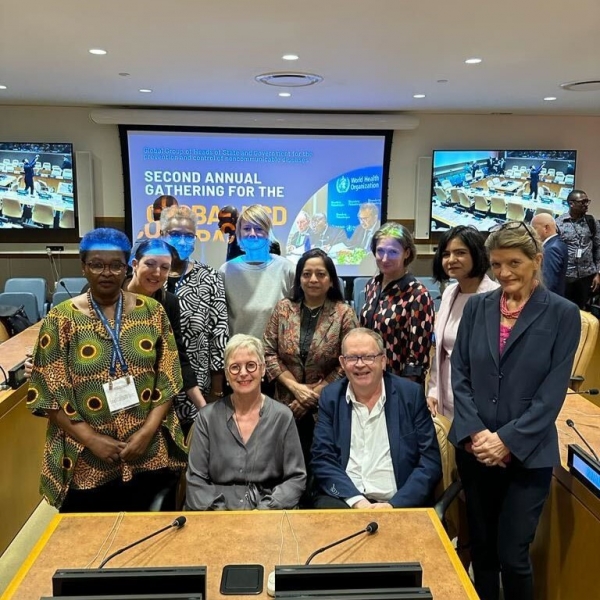 Second Annual Global Gathering of Heads of State on NCD Compact
Johanna Ralston was invited as an observer to the second global gathering of heads of state to address NCD commitments, including obesity-related goals and targets. This small invitation-only event for a group of Prime Ministers, Presidents and Minsters of Health was held inside the UN on September 21.
The Global Compact was launched in 2022 as a means for political leaders to demonstrate and reinforce support for NCD targets to 2030 through political measures including investing resources into NCD plans, aligning existing policies, integrating into other agendas, and ensuring that national surveillance systems are measuring NCD targets. Several Prime Ministers mentioned the particular challenges of obesity in their countries and welcomed action on curtailing marketing of unhealthy products and strengthening health systems.
Watch it here

Achieving Health for All through Universal Health Coverage (UHC)
At the United Nations (UN) General Assembly High-Level Meeting, world leaders approved a new Political Declaration on 'Universal Health Coverage (UHC): expanding our ambition for health and well-being in a post-COVID world'.
The UHC target measures the ability of countries to ensure that everyone receives the health care they need, when and where they need it, without facing financial hardship.
The declaration is a vital catalyst for Heads of State and world leaders to take big and bold actions and mobilise the necessary political commitments and financial investments to attain the UHC target of the Sustainable Development Goals (SDGs) by 2030.
"As obesity is both a disease in its own right and a major driver of other NCDs including cancer and CVD, the bold ambitions of the UHC Political Declaration must be matched by action to ensure that overweight and obesity are part of essential care and within health systems that are equitable and accessible to all who need them." - Johanna Ralston
In advance of the UN High-Level Meeting, our CEO, Johanna Ralston, spoke at the 'Global Charter Walk the Talk Webinar: Setting the scene by putting people living with NCDs at the centre' on 5 September, which was organised by NCDA about integrating lived experience into the Universal Health Coverage (UHC) agenda.
World Obesity has always been committed to recognising and incorporating the perspective of lived experience into its publications and programs and, more recently, by having two seats dedicated to individuals with lived experience of obesity on our board. Johanna, who has lived with NCDs including MS for many years, has also been an adviser to WHO on its framework towards meaningful involvement of people living with NCDs and serves on the NCD Alliance Our Views Our Voices advisory group. She also spoke to the launch of the WHO Framework on Meaningful Involvement. Other speakers included Dr Guy Fones of WHO and Nupur Lalvani, founder and director of India's Blue Circle Diabetes Foundation and a member of the UHC23 advisory group.
Let's Talk about Obesity
Get in touch if you want to talk about getting involved with us as we bring together and advance the needs and interests of the global obesity community.
Contact Us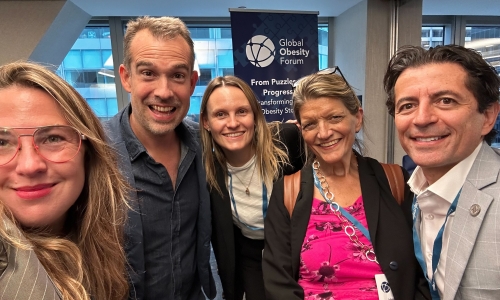 Events News Sep 28, 23
Transforming the obesity story at the Global Obesity Forum 2023
Stakeholders gathered at GOF 2023 with the purpose of bringing coherence to a complex and often fragmented landscape.
Read Post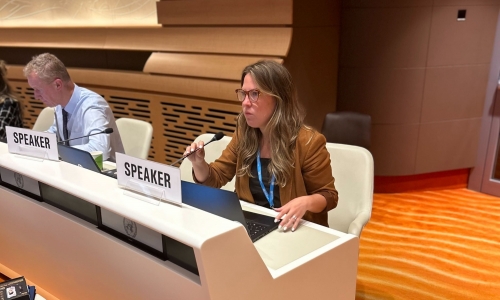 News Policy & Advocacy May 31, 23
Progressing the shared obesity agenda at the 76th World Health Assembly
World Obesity staff, members and allies convened at WHA76 to spotlight obesity on the international health agenda.
Read Post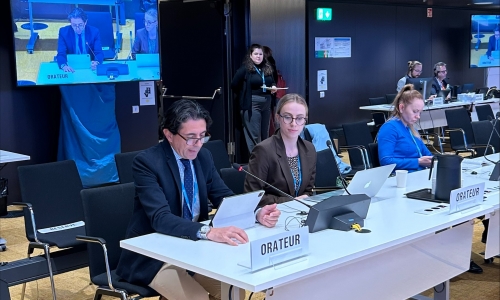 News Policy & Advocacy Feb 28, 23
World Obesity participates in WHO 152nd Executive Board Meeting
In our capacity as an organisation in official relations with the WHO, we were pleased to contribute to this meeting.
Read Post