Transforming the obesity story at the Global Obesity Forum 2023
Global Obesity Forum 2023: 17 September 2023, New York
---
For World Obesity and the obesity community, the 78th UN General Assembly offered an opportunity to elevate awareness and action on obesity through the Global Obesity Forum (GOF 2023).
---
GOF 2023, held in New York on Sunday 17 September, convened with the purpose of bringing coherence to a complex and often fragmented landscape.
Close to 60 stakeholders gathered from multiple sectors, all actively committed to piecing together a joint response to the obesity epidemic. This included experts and allies from The World Bank, PAHO, Georgetown University's O'Neill Center, World Economic Forum, Healthy Caribbean Coalition, European Association for the Study of Obesity (EASO), The Obesity Society, Global Health Advocacy Incubator, Vital Strategies, George Institute, Brazil's Desiderata, UNICEF, Mexican Obesity Society, GOPA, NCD Alliance, American Heart Association, Coalition for Americas Health, International Diabetes Federation, Pacific Community-SPC, University of North Carolina at Chapel Hill, and ten private sector partners.

These thought leaders and changemakers from across the world united to discuss solutions, in the hope that our shared story may be one step closer to halting the rise of obesity and achieving health for all.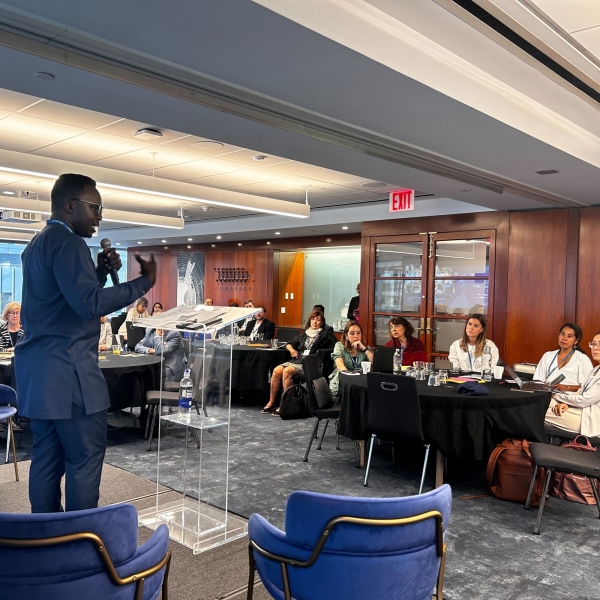 GOF 2023
The morning kicked off with a keynote presentation by Chris Van Tulleken, doctor at the Hospital for Tropical Diseases in London, and author of the bestselling book, Ultra Processed People. Chris spoke about how 'it is not you, it's the food'. He explained how a poor diet is a result of the ultra-processed food we intake, some being marketed as junk food but some also as healthy food, often produced with the cheapest possible ingredients which are harder for our bodies to process.
This eye-opening talk was followed by our newest World Obesity Board members, Ogweno Stephen and Amber Huett-Garcia, who shared their lived experience stories with the forum. Ogweno expressed his challenges of living with childhood obesity in Kenya, and Amber spoke about navigating the financial burden and stigma in US healthcare. Engaging with these inspirational individuals helps to keep the needs of people living with obesity front and centre in all our deliberations.

GOF 2023
Next on the programme was a panel discussion on 'Catalysing investment in NCDs, malnutrition and obesity', chaired by Karen Sealey, Director of the Healthy Caribbean Coalition. This discussion explored the links between obesity, NCDs and obesity as a strategy for effective financing as well as barriers to obesity financing. Dr Bary Popkin (UNC Chapel Hill), Meera Shekar (World Bank Group) and Rob Yates (Chatham House), discussed potential synergies between obesity and other areas, touched upon the Global Syndemic, and called on empowering the voices needed in this space to provide investment in obesity globally, particularly youth.
"We tend to look only in siloes, and solutions to the obesity agenda do not lie in siloes. They lie across the board, in so many sectors." - Meera Shekar, World Bank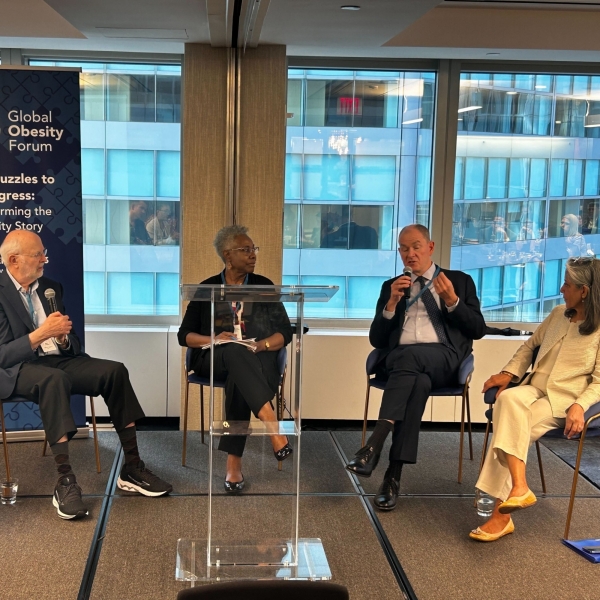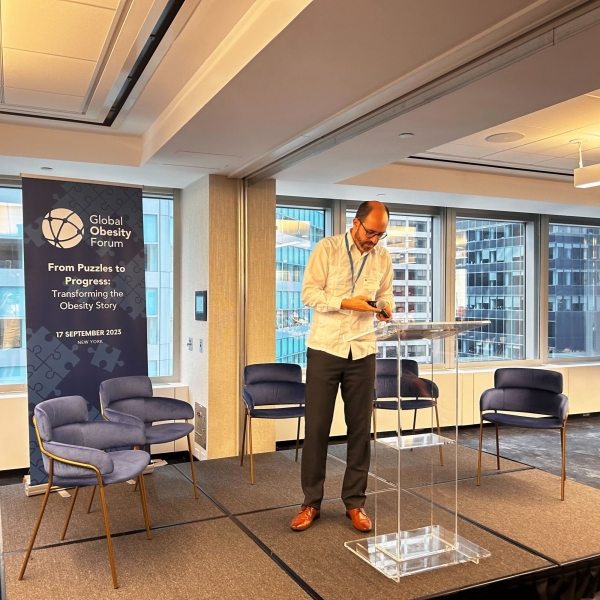 EASO's Jaqueline Bowman-Busato provided remarks on Europe's health service delivery and the challenges to implement and finance Universal Health Coverage. For illustrations of national actions on obesity, Dr Fabio da Silva Gomes, Nutrition and Physical Activity Advisor, PAHO, shared a presentation on progress across Latin America for obesity policy, covering labeling, taxation and industry interference.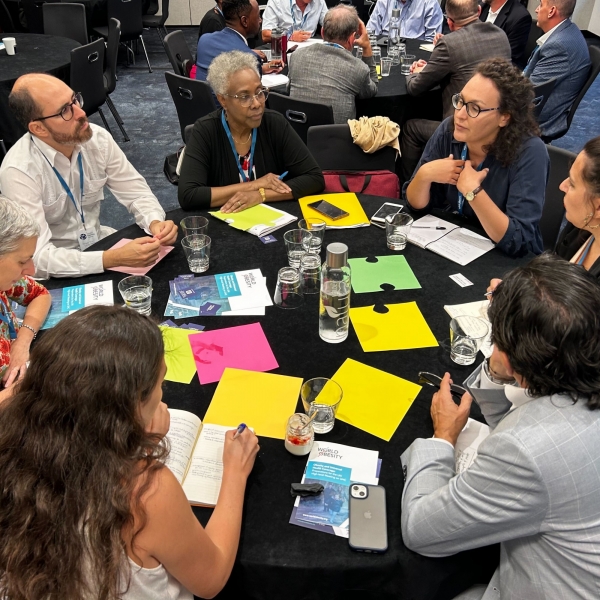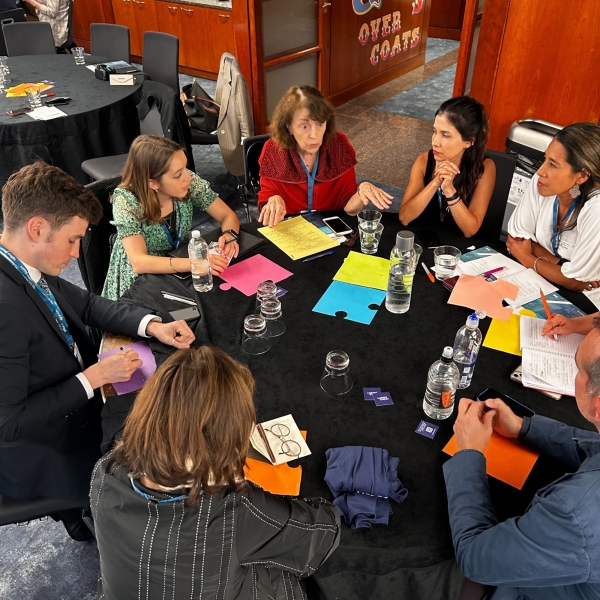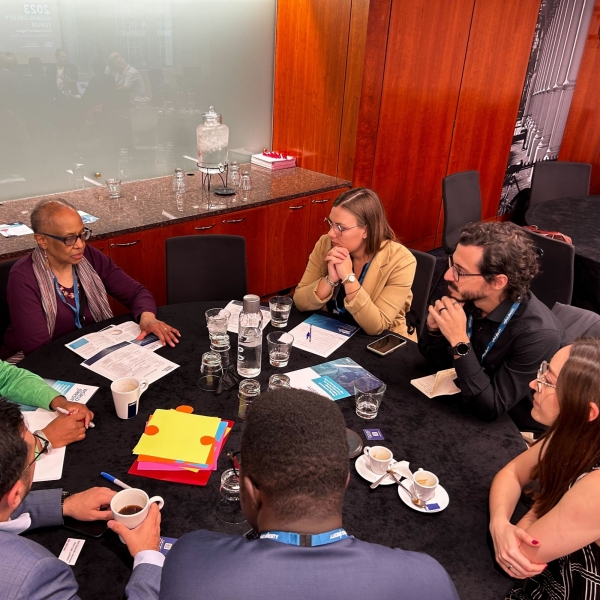 Obesity is everybody's business
For obesity, a disease and a driver of other diseases, stories are essential in showing how different the obesity journey can be, and how success requires multiple approaches, working together. People representing health, food systems, the private sector, physical activity, prevention and nutrition, are each part of the puzzle of how to address obesity, and how to tell the right stories. All these sectors were present at the Forum, and, informed by the working paper on obesity financing that was presented at the Forum, 'An Economic Imperative: Catalysing Funding to Address Obesity', debated in breakout groups the role they see themselves playing in the obesity agenda.
Rachel Nugent, from RTI International, introduced these breakout sessions, where groups also discussed the important economic work, with an invitation to reflect on financing, identified synergies across sectors and considered what is needed to piece the various parts of the puzzle together.

Following the breakout sessions, Dr Francesco Branca, Director of Nutrition, WHO, spoke to the Forum on the importance of accelerating action on obesity.
"We need to work across the whole of society and multiple sectors on creating those supportive environments to make the right choices but also to have health services available. Now we have good series of recommendations and some policies to address prevention and management - how do we now address the big challenge of implementation."
The event was closed by our President-Elect, Dr Simón Barquera, who said:
"We have learnt a lot of what we can do to transform food systems, address conflicts of interest and also interference of food industry whilst also recognising there is a lot of opportunity to improve the health systems, and that will help improve diets and environments, with better care of our population. As a Mexican working in obesity prevention, I am totally motivated by the Global Obesity Forum to work with the obesity roadmap in Mexico."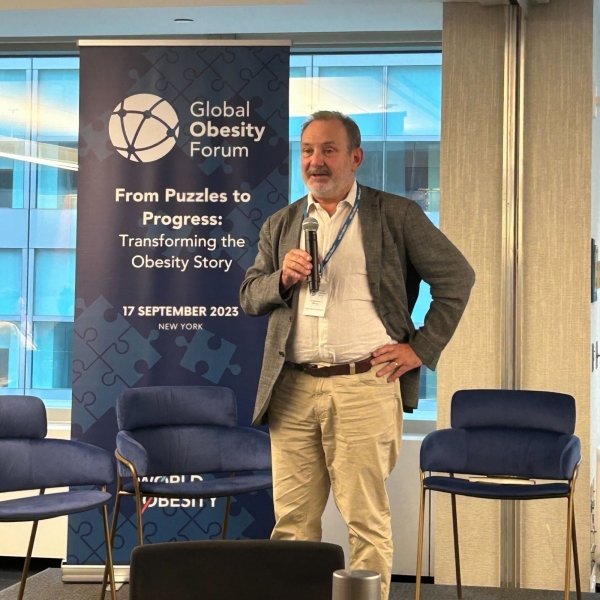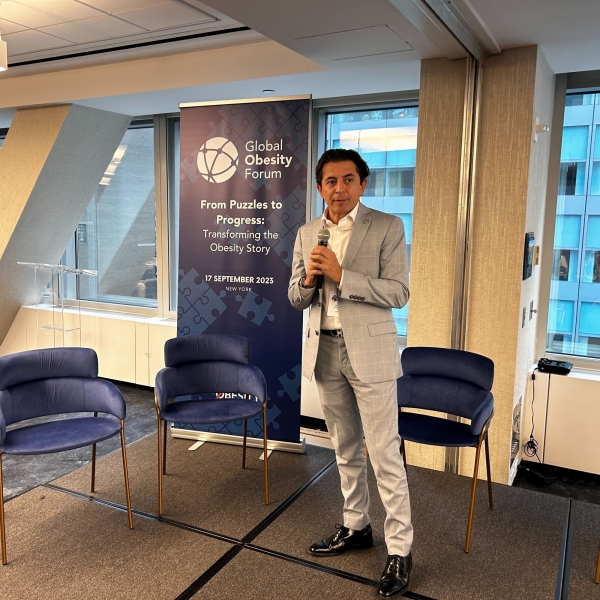 Key takeaways
For financing of obesity prevention and management, national UHC budgets may be more promising than we originally thought, though much more work needs to be done on pricing and access.
The WHO Acceleration Plan offers a common framework for action that can be tailored to what each country needs, and funding should be mainly through national investments. Investment cases tied to country priorities can help catalyse sustained support.
It is vital to both recognise the complexity and diversity of the food system while also acknowledging that UPFs are a serious concern and must be addressed and, over time, phased out.
Coordinated action is essential, and opportunities for convening and debate such as the Forum should be continued and supported.
Download the Discussion paper
Read the working document that was presented and discussed at the Global Obesity Forum 2023:
An Economic Imperative: Catalysing Funding to Address Obesity.
Download