Clinical Obesity celebrates its first Impact Factor!
Clinical Obesity is an international peer-reviewed journal publishing high quality translational and clinical research papers and reviews focussing on obesity and its co-morbidities.
After guiding the journal through it's first 11 years, Prof. Nick Finer stepped down as Editor in Chief in June last year. Prof. Shahrad Taheri took over as EiC in 2022 and has been working to further develop the journal. Alongside both EiCs, Prof. Sarah Garnett was a stalwart Deputy Editor from 2019-2023, ensuring the journal had a smooth transition period.
COB
This year, after 12 years, Clinical Obesity has received its first Impact Factor of 3.3!
This is a great starting point and with a higher Impact Factor, the journal should attract a higher number and quality of submissions.
The Impact Factor (overseen and assigned by Clarivate) is used to evaluate the relative importance of a journal within its field by calculating the frequency of citations of an 'average' article in a year.
Clinical Obesity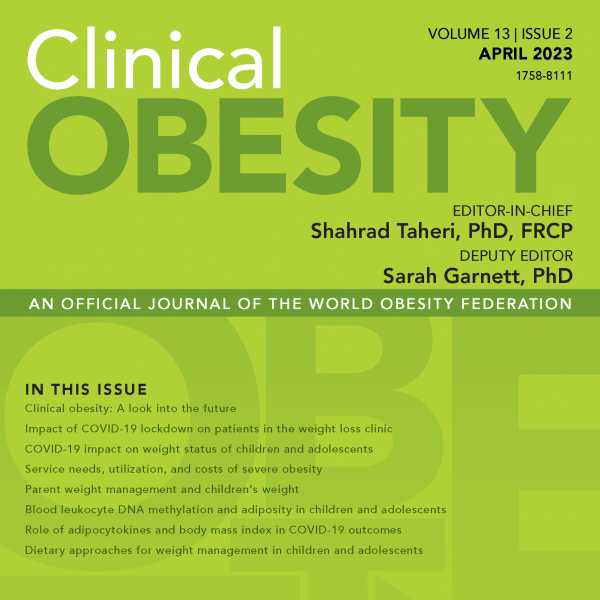 Clinical obesity has a global readership and is publishing in a number of exciting areas, such as: drug treatment and clinical trials; surgical approaches; pharmacological, dietary and behavioural approaches to weight loss; and patient assessment, diagnosis and prognosis.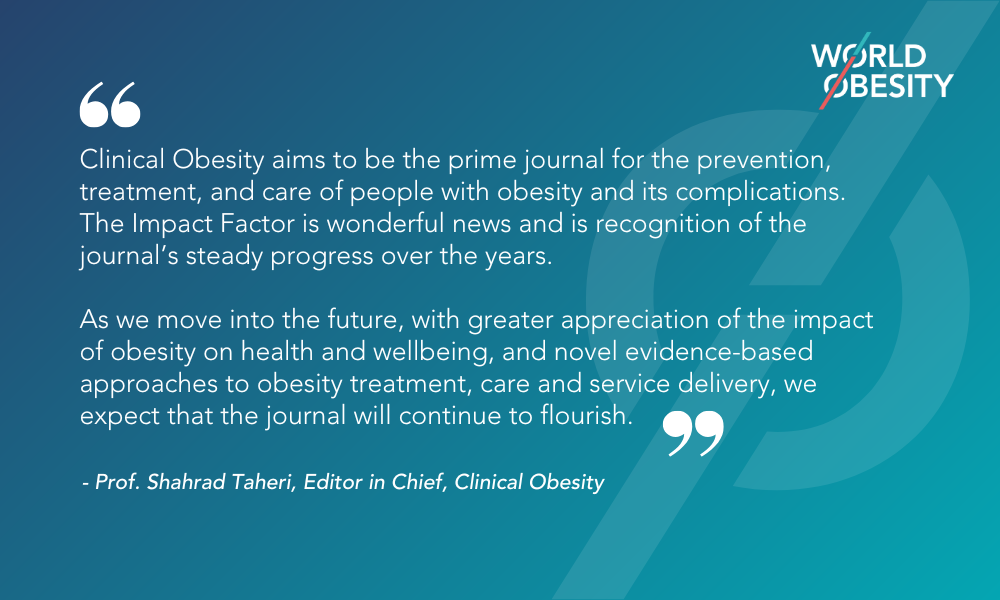 Chair of our Publications Committee, Prof. Donna Ryan, expressed her delight:
"What wonderful news that Clinical Obesity's first-ever Impact Factor is 3.3. This is quite an accomplishment, since usually the first Impact Factor for a new journal is lower – almost always below 2. This achievement is a direct reflection of the hard work and excellent leadership of the founding Editor in Chief, Dr Nick Finer, and his Associate Editors. Dr Finer steered Clinical Obesity to this achievement by attracting high-quality submissions that then attracted a readership, a difficult task in the early days of the journal.
The Impact Factor reflects the yearly average number of citations of articles published in the last two years, meaning that, on average, Clinical Obesity's articles have been cited more than 3 times, a reflection of the scientific impact of the journal. The new Editor in Chief is Prof. Shahrad Taheri, who assumed leadership in 2022 and who will bring the journal to new heights. Our ability to bring clinical benefits to patients with obesity through good weight management is rising and the fate of this journal is linked to that. I see a bright future for Clinical Obesity!"
Our Journals
Click here to find out more about our four scientific, peer-reviewed journals.
Journals