A warm welcome to new Journal EiCs
World Obesity is pleased to introduce the new Editor-in-Chiefs for two of our popular international journals.
Prof. Brian Oldfield takes the reins of Obesity Reviews, and Prof. Shahrad Taheri assumes responsibility of Clinical Obesity.
OBESITY REVIEWS
Prof. Brian Oldfield
Brian is currently a Professor of Physiology at Monash University, Australia and President of the Asia Oceania Association for the Study of Obesity (AOASO).
He has been involved in national and international obesity related organisations for many years during which time he has also held numerous appointed and elected leadership roles.
Brian has a strong and respected standing in the international research community, with 165 publications in obesity-related fields and numerous book chapters.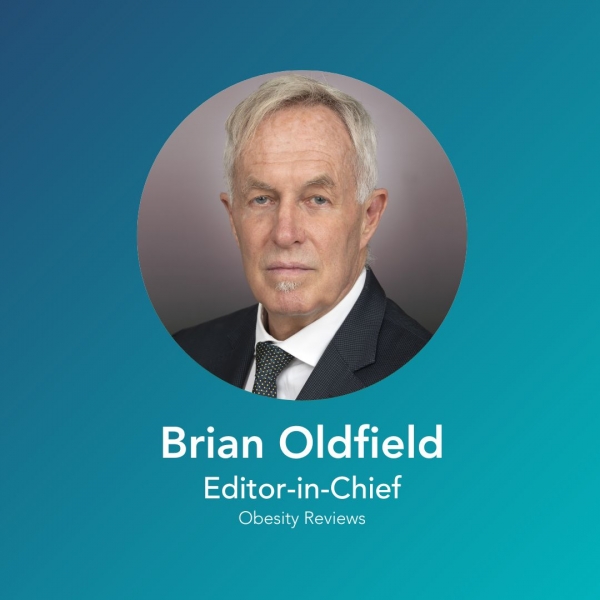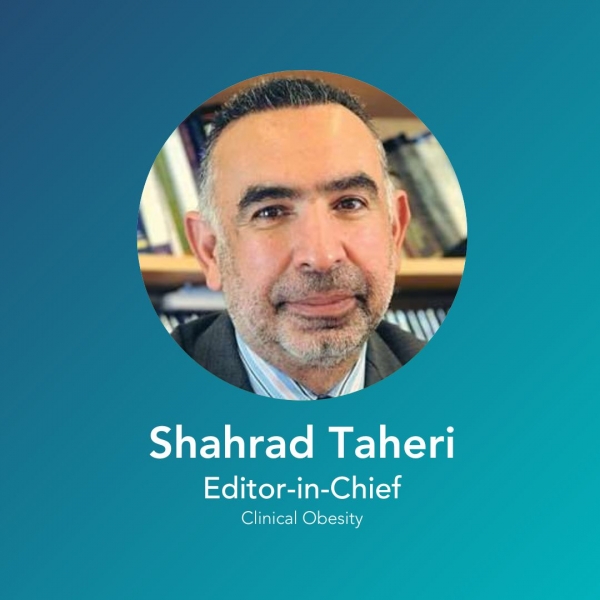 CLINICAL OBESITY
Prof. Shahrad Taheri
Shahrad is a Professor of Medicine, Weill Cornell Medicine, Qatar, and New York, Cornell University, USA and Professor of Epidemiology and Health Services Research, Weill Cornell Medicine NY, Cornell University, USA. He also holds positions as Director, Deputy Director and Senior Consultant at various institutions.
Shahrad has extensive experience in leading large multi-disciplinary clinical and research teams and his work includes the development of disease diagnostic and prognostic markers and development of novel approaches to personalized medicine.
He is a collaborative researcher working with colleagues across multiple institutions and countries which has contributed to landmark publications and being recognised within the top 2% of scientists in the world.

We spoke to Brian to find out what being EiC means to him, his current research, and about his vision and plans for Obesity Reviews.
What does it mean to you to be Editor in Chief of Obesity Reviews?
It is very important to me. I see it as a transition. I have been lucky enough to lead a research group for 30 years and be supported by talented individuals and competitive funding throughout that time. I still have, and will always have, a research focus but now the lead in this is taken by those around me. Throughout my career I have enjoyed the process of writing, communicating, and sharing scientific discovery through publication and, as such, I feel that I have been training for this position all my academic life. My aim is to build on the wonderful legacy created by David and his Board.
What is your vision for the Journal?
My vision is to build on the Journal's success, to maintain the momentum toward high quality, impactful and timely reviews that represent the breadth and diversity of obesity research.
Over the next year, I would like to work toward greater utilisation of the excellent Board at Obesity Reviews. Moreover, I hope to facilitate an extension of this group to include energetic, mid-career members who represent the diversity of world–wide obesity research, both in gender and geography.
It is my hope that we can maintain and even elevate the quality of the process of review of submissions by establishing a range of functional Associate Editors within the Board, reflecting key areas of developing interest in obesity research. These include, but should not be restricted to, reviews of high quality preclinical translational research, psychological aspects of obesity, and pediatric and transgenerational obesity. These will only add to the strengths that exist in the Journal.
I would like to work closely with the Board through regular meetings to continue the judicious selection of supplement topics and solicit invited reviews by experts in the field – perhaps even 'point and counterpoint' contributions in those areas where there is a healthy diversity of viewpoints in the literature.
What are your research commitments?
Over the last 20 plus years I have had several research passions. Each of these, while apparently disparate, shares an interconnectivity.
The first of these is the biology and particularly the neural control of brown fat, an area of research that was largely founded by MJ Stock, an early luminary in what is now the World Obesity Federation. While the true therapeutic potential of this unique form of 'fat' which burns energy instead of storing it remains to be determined, this area has captured the imagination of many as an anti-obesity target tissue.
The second involves the mechanisms underlying the efficacy of weight loss surgeries, which, according to our latest research and that of others, involves a contribution from brown fat. The goal of these studies has always been to inform non-surgical approaches through a more complete understanding of the hormonal and neurobiological sequelae of surgery. It should not be surprising that gut-derived hormones that are currently the focus of the latest anti-obesity medicines are amongst those that are brought into play following surgery.
Finally, and at first glance paradoxically, the study of the neurobiology of anorexia nervosa which is in itself an important area of research also informs obesity research through the elucidation of 'motivation to eat' brain circuitry.
These areas and our latest foray into psychedelics and anorexia nervosa are now headed by stellar mid-career researchers who have been mainstays in my lab over recent decades and are now independent research leads.
Do you have any advice for someone submitting to Obesity Reviews?
I'm hesitant to give advice on this after a few short months in the chair as Editor in Chief, especially given the more valuable advice that could be derived from my predecessor, but ...
While 'novelty' has an unusual connotation in a review journal, I think that it is very important. It is essential that each published review provides novel insight and, at its best, changes the dial in some way – those seeking to publish in the Journal should base their submissions on this.
It is essential that the collection of data and coverage of the literature is comprehensive and scrupulous, well written and, don't forget, interesting.
Submissions worldwide are clearly not all from authors with English as first language. It helps enormously if authors from all countries do their own due diligence in ensuring that their messages are conveyed clearly. It can also help if authors avail themselves of services such as the one offered by Wiley to ensure that their work is appropriately presented and expressed.
In short, be accurate but not dull, be diligent and, like one of my heroes of English written language, E.B White*, write simply and clearly.
*While it's a bit dated, the Elements of Style, initially written by Will Strunk and revised by his former student E.B. White, is still worth a read as are, in my opinion, any of the essays written by the latter.
---
We are delighted to have Brian and Shahrad on board and look forward to the continued success of the journals under their leadership.
Obesity Reviews
Obesity Reviews is the highest cited obesity journal as measured by the Clarivate Impact Factor and publishes review articles from disciplines related to obesity and its associated comorbidities. The journal contributes to education and inter-professional development by providing new insight into all aspects of the disease including underlying causes, treatment, management and prevention, public health, policy and behavioural components as well as the basic science underpinning the etiology and pathophysiology of obesity and its comorbidities.
Articles published in Obesity Reviews are of particular interest to all professionals concerned with understanding obesity and its associated comorbidities and the optimal approaches for their treatment and prevention. The reviews published in this journal will provide important insight for all health-related professionals including endocrinologists, cardiologists, gastroenterologists, obstetricians, psychologists and psychiatrists, and bariatric physicians.
Find out more about Obesity Reviews and browse current and past content here.
Clinical Obesity
Clinical Obesity is an international peer-reviewed journal publishing high quality translational and clinical research papers and reviews focussing on obesity and its comorbidities.
Key areas of interest include: patient assessment, classification, diagnosis and prognosis; drug treatments, clinical trials and supporting research; bariatric surgery and follow-up issues; surgical approaches to remove body fat; pharmacological, dietary and behavioural approaches for weight loss; clinical physiology; clinically relevant epidemiology; psychological aspects of obesity; comorbidities; and nursing and care of patients with obesity.
Find out more about Clinical Obesity and browse current and past content here.
Find out More
Click here to read more about all four of our scientific, peer-reviewed journals.
Our Journals