CO-CREATE Youth Advocacy Toolkit - Launch webinar
Jun
21
, 2023
Wednesday, 21 June 2023: 13:00 - 14:00pm CEST (12:00 - 13:00pm BST)
---
CO-CREATE is hosting a launch webinar for its new toolkit 'Youth-Led Change: A Systems Thinking Activity toolkit' - developed for youth, by youth!
---
Every policy starts with an idea, a vision about something that could be improved or changed. This toolkit is developed by youth for youth to learn about policy ideas through engaging activities. Its goal is for participants to find issues in their community and develop ideas on how to address them!
You are invited to learn more about the toolkit and its methods, such as Visual Voice and Systems Mapping. During the webinar you will also have opportunities to discuss the methods and ask questions. This toolkit is an adaptable resource which can be utilised in schools, youth organisations and local communities, both on or offline.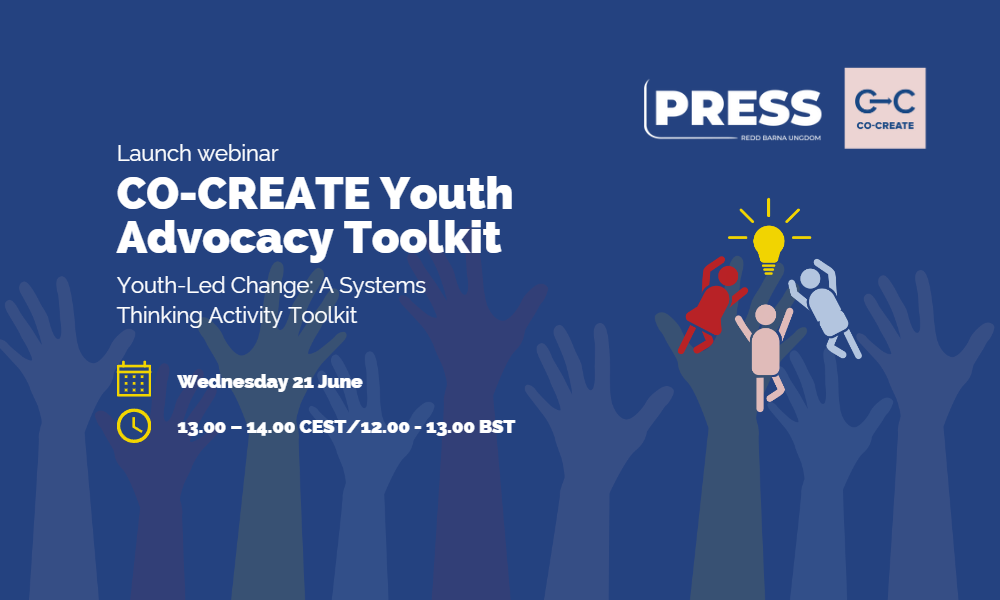 The launch webinar event takes place on Wednesday 21 June, at 13.00 – 14.00 CEST/12.00 - 13.00 BST via TEAMS, please find the link to register below. You can also participate physically in "Redd Barna Huset" in Bøkkereien 2, Oslo, Norway. There will be an opportunity to get a hands-on experience after the event.
---
More information about the toolkit
The Toolkit is a free tool that has been developed through the EU Horizon 2020 project, CO-CREATE.
CO-CREATE is a project on policy research and youth involvement in tackling adolescent obesity. The toolkit is developed by, and has been led by Press – Save the Children Youth Norway and designed by the World Obesity Federation. For more information on the CO-CREATE project's objectives and research, please visit the project website here.
A full programme and speakers are to follow. Please keep an eye on this page, and CO-CREATE social media:
---
About CO-CREATE
Funded by the European Union's Horizon 2020 research and innovation programme, CO-CREATE brought together 14 international research and advocacy organisations to work with young people to create, inform and promote policies for obesity prevention co-create.eu
Register Now
Follow this link to book your place.
This event will be open to the public so feel free to share this widely within your networks. We hope to see you all there!
Register