WHO RC Meetings 2022: AFRO, SEARO & EURO
The WHO Regional Committee meetings convene once a year in each of the six regions. These are the WHO's highest decision-making bodies in the respective regions, where ministers of health and high-level dignitaries meet to shape political commitment and action to improve the health and health conditions of the people living in each region.
The World Obesity Federation is in 'official relations' with the WHO which enables participation in all of the regional meetings as an official non-state actor. As the only global organisation focused solely on obesity, participation in the meetings provides us and our members a vital opportunity to raise obesity and related policies up the political agenda and to be the civil society voice representing those affected by obesity.
The following regional committee meetings for 2022 have taken place:
| | | |
| --- | --- | --- |
| AFRO (Africa) | 22 – 26 August | Lomé, Togo |
| SEARO (South-east Asia) | 5 – 9 September | Paro, Bhutan |
| EURO (Europe) | 12 – 14 September | Tel Aviv, Israel (and virtual) |
---
AFRO – 72nd session of the WHO Regional Committee for Africa (AFRO RC72)
---
AFRO RC72 brought together African health ministers, government representatives, representatives from United Nations agencies, non-governmental organisations, civil society, academia and development partners, to discuss and agree on measures to lower the burden of diseases, seek ways to curb the drivers of ill health, and endorse strategies to promote access to health services and well-being across the continent.
AFRO RC72
Dr Agbo Urudinachi, President of The Obesity Society of Nigeria, and Emmanuel Akoto, President of Be Active Foundation Ghana, attended the AFRO meeting, and delivered our statement for Agenda Item 7. 'Pen-plus – a regional strategy to address severe noncommunicable diseases at first-level referral health facilities'. Over 33 member states provided inputs and comments to the strategy.
The Health Ministers at AFRO RC72 underscored the importance of integrating essential NCD services into primary health care and unanimously adopted the strategy.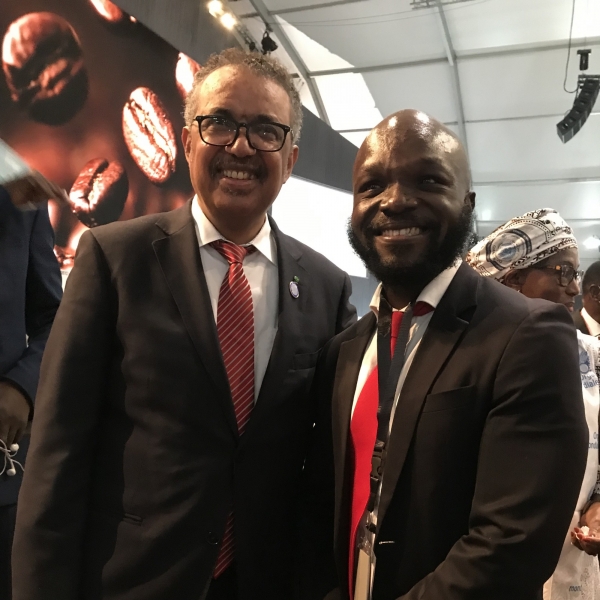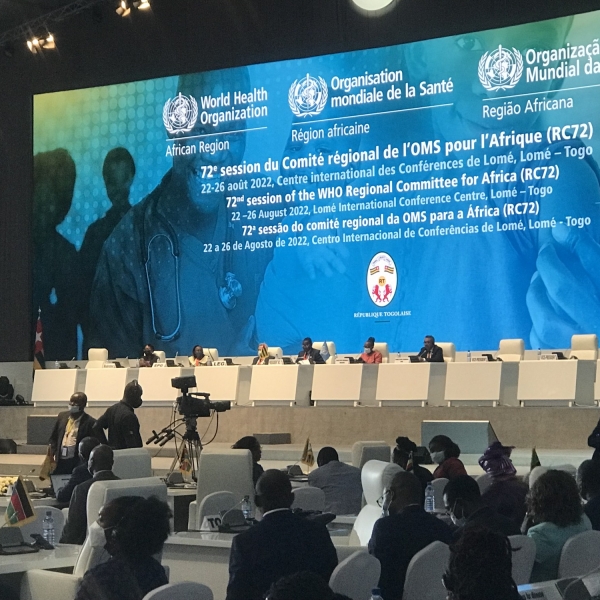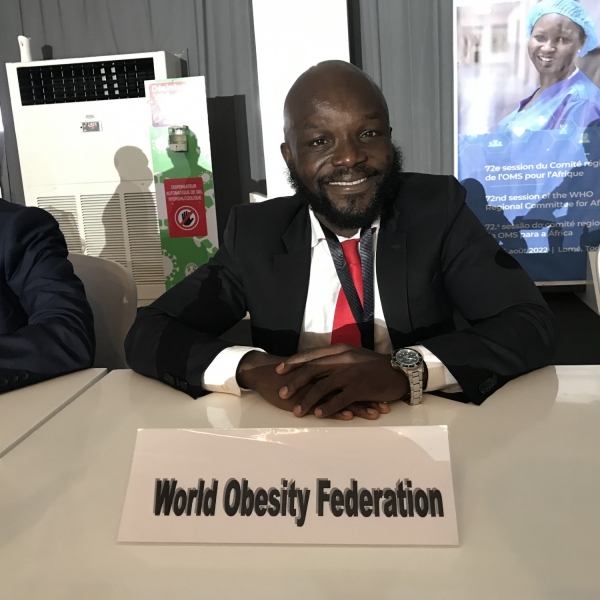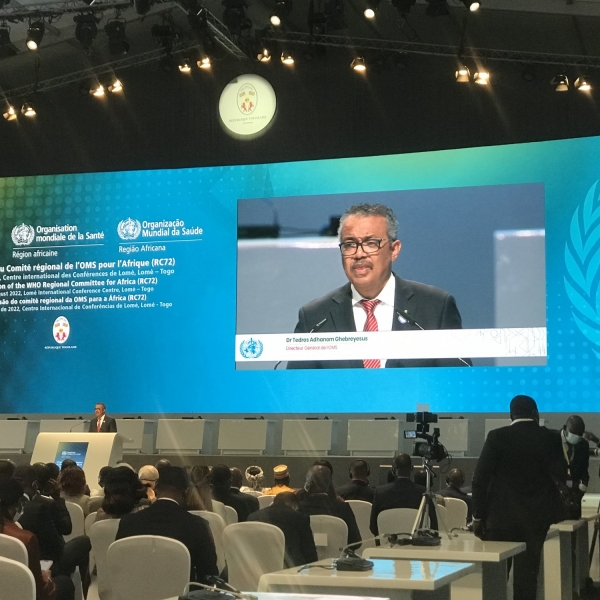 Emmanuel submitted a comprehensive report on the meeting, with some of the key moments listed below:
The session was opened by the President of the Republic of Togo, H.E President Faure Essozimna Gnassingbé. In his opening remarks, the President said that health is a priority for social cohesion, a priority which is at the heart of his government's development policy.
In his opening remarks, WHO Director-General, Dr Tedros Adhanom Ghebreyesus, called on all member states to make an urgent paradigm shift towards promoting health and well-being and preventing disease by addressing its root causes and creating the conditions for health to thrive.
The treatment and prevention of noncommunicable diseases (NCDs) remains a priority for the WHO Africa Secretariat. To tackle the burden of chronic and severe NCDs, the secretariat presented the Package of Essential Noncommunicable Disease Interventions-Plus (PEN-Plus) strategy to the delegates attending AFRO RC72. The strategy proposed priority interventions covering training and mentoring of staff, resource mobilisation, multisectoral action, service delivery, data collection, innovation, and research. It also proposed approaches to improve efficiency by providing standardised protocol-based management of severe NCDs. The WHO-PEN has shown promising results in pilot programmes in Liberia, Malawi and Rwanda leading to an increase in the number of patients accessing care for severe non-communicable diseases resulting in improved outcomes among people affected by NCDs.
Emmanual expressed his appreciation for the opportunity to participate in AFRO RC72 and deliver our statement to the meeting. He said,
"The meeting served as a great platform to deepen my knowledge of health issues across the African region, learn about the work of the WHO in Africa and above all, expand my networks. It was truly a valuable experience which has spurred me on to continue to work to prevent and curb obesity rates in Ghana and the region."
For more information on the AFRO RC72 session, click here.
To read the full report from our member, Emmanual Akoto, President of Be Active Foundation Ghana, click here.
---
SEARO – 75th session of the WHO Regional Committee for South-east Asia
---
The 75th session took place in Paro, Bhutan and the official press release from SEARO stated that member countries had committed to resilient health systems, accelerating multisectoral actions to address priority health issues and reenergising comprehensive primary health services to build societies that are more inclusive, equitable and resilient against present and future emergencies.
Read the full SEARO press release here.
World Obesity submitted two written statements to the SEARO session:
Provisional Agenda Item 9.5 'Ending preventable maternal, newborn, and child mortality in the South-East Asia Region in line with the Sustainable Development Goals and Global Strategy on Women's, Children's, and Adolescent Health'
We submitted a joint statement with Gym 2021, HRIDAY, Public Health Foundation of India, and UNICEF regarding how the meaningful involvement of adolescents in policy planning, designing, implementation, and monitoring can help achieve the objectives of the 2030 agenda for sustainable development.
---
EURO – 72nd session of the WHO Regional Committee for Europe
---
Health ministers and high-level delegates of the 53 Member States of the WHO European Region, as well as representatives of partner organisations and civil society, gathered for EURO RC72 from 12 – 14 September to reflect on progress and further steps needed to implement the European Programme of Work (EPW) 2020–2025, 'United Action for Better Health in Europe'.
Health stakeholders discussed the main challenges for public health in the region, ongoing health emergencies, and opportunities for closer sub-regional and inter-regional collaboration. The session also sought consensus on actions to be taken in several priority health areas, including empowerment through digital health, health promotion through behavioural and cultural insights, and access to affordable medicines.
Jacqueline Bowman, Policy Lead for the European Association for the Study of Obesity (EASO), attended this meeting, and delivered our statement for Agenda Item 14. 'Implementation of the Action Plan for the Prevention and Control of Noncommunicable Diseases in the WHO European Region 2016-2025'.
ERUO RC72
A childhood obesity side event was also held at EURO RC72 which took place online and in person.
Our Director of Policy, Dr Hannah Brinsden, submitted a video statement which was shared during the event, highlighting the importance of the WHO Acceleration Plan and new recommendations on obesity adopted at this year's WHA, and the role that we will play globally to address obesity.
For more information on the EURO RC72 session, click here.
To read the press release summarising the significant outcomes of EURO RC72, click here.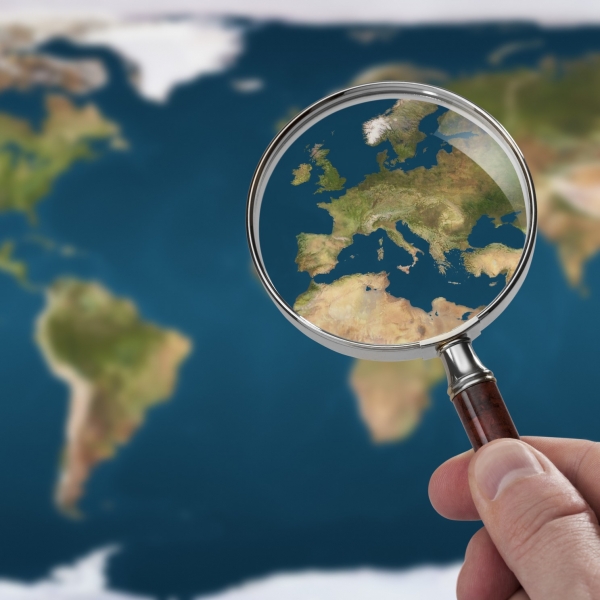 Upcoming Meetings
The following meeting are currently taking place or are scheduled to take place in the next few weeks, and this will bring the 2022 WHO Regional Committee Meetings to a close. We will publish feedback on these meetings next month.
| | | |
| --- | --- | --- |
| PAHO (Americas) | 26 – 30 September | Washington DC, USA |
| EMRO (Eastern Mediterranean) | 10 – 14 October | Cairo, Egypt |
| WPRO (Western Pacific) | 24 – 28 October | Manila, Philippines |
We would like to thank all members who have joined our delegation at the various meetings, and encourage anyone interested in joining upcoming meetings to contact us on membership@worldobesity.org.
Statements Aug 23, 22
Statement to the 72nd Session of the Regional Committee for Africa
Agenda Item 7. Pen-plus – a regional strategy to address severe noncommunicable diseases at first-level referral health.
View Resource
Sep 06, 22
Statement to the 75th Regional Committee for South-East Asia
Agenda Item 8.1 Monitoring progress and acceleration plan for NCDs, including oral health and integrated eye care
View Resource
Statements Sep 15, 22
Statement to the 72nd Regional Committee for Europe
Agenda Item 14: Implementation of the Action Plan for the Prevention and Control of NCDs in Europe
View Resource