The role of food systems in addressing the triple burden of malnutrition
On Monday 26th July, World Obesity, the Public Health Foundation of India and Mothers First held an event at the pre-UN Food Systems Summit 2021.
Globally, over half of the population suffers some form of malnutrition and over 2 billion people are unable to afford a healthy diet. The ongoing COVID-19 has – and continues to – severely disrupt food and health systems around the world, increasing the risk of exacerbating an already devastating problem.
Strained food systems and supply chains have led to a rise in food insecurity. 130 million additional people are now experiencing extreme hunger due to COVID-19. In parallel, it also became clear early on that COVID-19 disproportionately affects people living with obesity who are more likely to experience complications and death due to COVID-19.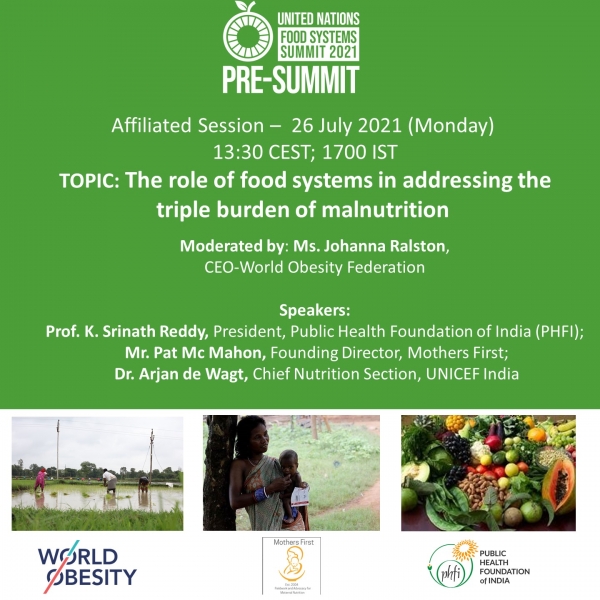 Together with the Public Health Foundation of India (PHFI) and Mothers First, our event moderated by Johanna Ralston, CEO of World Obesity, explored the interactions between food systems, different forms of malnutrition and gender, highlighting some of the key double and triple duty actions that must be elevated by the UN Food Systems Summit. Specifically, we aimed to:
Highlight the importance of healthy and sustainable food systems to prevent and treat all forms of malnutrition
Increase understanding of the double and triple burden of malnutrition in India and beyond
Elevate examples of double and triple duty actions to enable food systems to deliver health for all people and planet
Challenge the paradigm that empowering consumers to make 'smart food choices' is the best approach
Call for the UN Food Systems Summit to promote more strongly government-led systems-based actions to ensure access to nutritious foods for those that can't afford to make 'smart choices'

The complex nutritional landscape of India
Arjan de Wagt, Chief Nutritionist at UNICEF India, opened the event by setting the scene. As one of the most populous countries in the world, India has a point prevalence of less than 5% with respect to children living with overweight or obesity but given its status as the world second most populous nation, that equals 17 million children, setting the country completely off-track to meeting the 2025 WHO target. However, the situation isn't so easily divided between undernutrition and overweight and obesity. with many of these children suffering from multiple micronutrient deficiencies, among other things. Across the country, 11 out of 28 states have a prevalence of childhood obesity of 10% or higher. There is also a stark difference as a result of globalisation and socioeconomic status: rural areas are experiencing a faster increase than urban places, with people from the lowest wealth quartile being more prone to living with obesity. At this pace and without immediate, bold actions, 27 million children in India will be living with obesity by 2030, accounting for 11% of the global burden of obesity. Given the urgency of the situation, Arjan de Wagt identified areas of actions to address the current obesogenic environment:
Provide a multi-sectoral coordination platform to evaluate and review existing national targets, fiscal policies, legislations and multi-sectoral actions
Improving nutrition literacy through counselling and mass communication materials
Reviewing domestic and international evidence on the impact of use of fiscal instruments on sales and consumption of unhealthy products
Test and evaluate overweight and obesity prevention and management in children's school health programmes
A whole-systems, intergenerational approach to malnutrition
The co-existence of different forms of malnutrition within a single individual further reinforces the long-time ask of many civil society organisations, public health professionals and others to implement double and triple duty actions. As highlighted by Prof. Srinath Reddy, President of PHFI, "it is not useful to have compartmentalisation of malnutrition into three distinct categories. There is a considerable degree of overlap. These conditions can co-exist in the same community, same family, in the same person." The legacy of malnutrition in India is resulting in metabolic obesity and leading to a surge in early onset of type 2 diabetes among youth.
"There is an interplay of nature and nurture: the expression of genes (nature) is altered by nutrition (nurture), and these changes play out across generations - if an undernourished mother has a girl foetus in her womb, then the eggs of the foetus can also be affected, so poor nutrition can pass through three generations."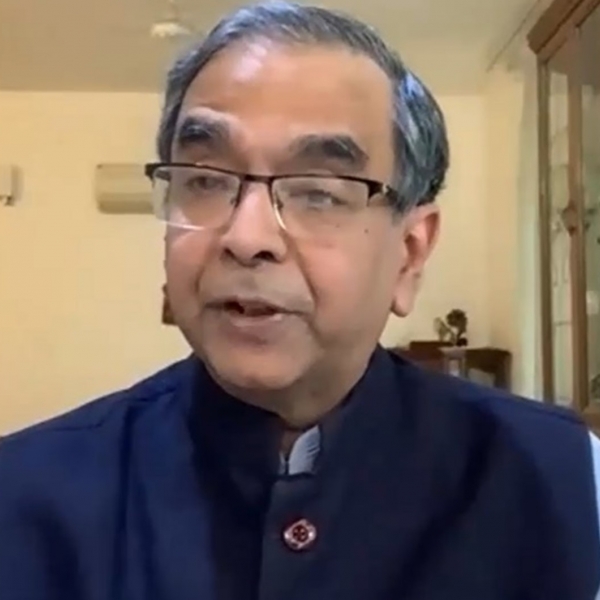 As highlighted by Pat Mc Mahon, CEO of Mothers First, women are disproportionately affected by malnutrition with life-long and inter-generational repercussions. Access to healthy, safe, nutritious and sustainable diets should be seen as a right, not a privilege. Our scope of work needs to be widened and go beyond food security: food systems should be assessed on their outcomes, including their ability to deliver nutritious diets, and address the upstream drivers.
This will require the implementation of nutrition-specific and nutrition-sensitive interventions. Unsurprisingly, dietary diversity and quality are being substantially distorted by marketing forces and production, processing, pricing, distribution and promotion. Meanwhile, ultra-processed foods and beverages are flooding the market, provide empty calories laden with sugar and fats, and have now become of paramount importance to the food supply chain especially in low- and middle-income countries.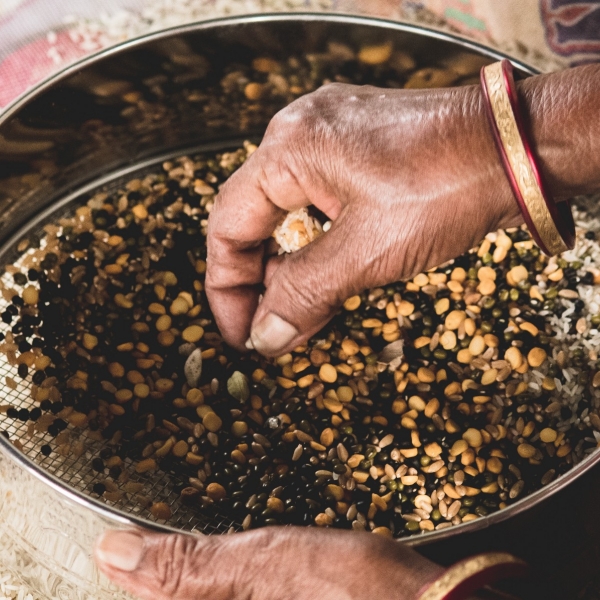 A call to the leaders of the UN Food Systems Summit
"Responsible consumption" has been a prominent message in the lead up to the upcoming UN Food Systems Summit, but Prof. Reddy argues that it is more complex than that, with choices being conscious, conditioned or constrained. Conscious based on the right or wrong type of information; Conditioned by market pressures and the unethical promotion of unhealthy products; Constrained by financial means. Will leaders step up to the challenge and commit to restructuring and legislating our environments to ensure healthy foods are affordable and healthy foods become costlier? Can we avoid labels that seem to once again place the responsibility – and therefore blame – solely with the individual and the consumer, with little recognition of the complex roots and drivers of overweight and obesity? In the words of Prof. Reddy's call to the leaders meeting at the pre-Summit in Rome:
"Correct the present and create the future. Make sure you have a good combination of the political will and professional skills to carry out the implementation."