BLOG | Sedentary Behaviour: A Threat to Global Health
Sedentary Behaviour: A Threat to Global Health
---
Author: Jessica Brichta
Research Associate II, Health Economics
The Canadian Alliance for Sustainable Health Care (CASHC)
The Conference Board of Canada
---
Obesity is an epidemic that affects nearly all nations in the world. Recent research shows that the proportion of overweight and obese adults globally has increased over the past 30 years from approximately 29 per cent to 37 per cent of men, and from 30 per cent to 38 per cent of women.(1) Unhealthy diets and a lack of physical activity are often identified as the key culprits.
Increasingly though, sedentary behaviour is seen to contribute to weight-related conditions. Sedentary behaviour is distinct from physical inactivity (with specific physiological effects on the body and overall health). It is characterized by the low expenditure of energy throughout the day, usually by in a sitting or reclined position in front of desks, computers, televisions, and other devices. (2)
Sedentary behaviour is on the rise, especially in developed countries. In the United States, the number of hours per week spent in a sedentary state is increasing by 1.3 per cent each year.(3) The average Canadian adult spends 70 per cent of total waking time (or 10 hours per day) sitting.(4) Long periods spent in a sedentary state leaves comparatively little time for Canadians to undertake light physical activity, such as leisurely walking or household chores, and even less — an estimated 3 per cent of waking hours— for moderate to vigorous physical activities (see Chart 1).(5)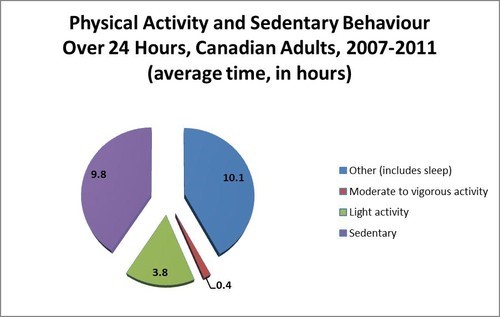 Source: Statistics Canada, Directly Measured Physical Activity of Canadian Adults
Research by The Conference Board of Canada's Canadian Alliance for Sustainable Health Care(6) (CASHC) highlights the importance of programs and strategies that incorporate healthy active living (HAL). While HAL includes healthy diets and physical activity among individuals, it also extends to population-level practices that consistently and continually support, improve, maintain and enhance healthy behaviour.(7)
CASHC's research series, Moving Ahead, makes the economic and social case for HAL. Replacing periods of sitting with additional standing, walking, or incidental movement can reduce numerous health risks and improve well-being.(8) This behavioural change would also have a measurable economic impact. If only 10 per cent of Canadians with suboptimal physical activity levels became more active and reduced their time spent in a sedentary state starting in 2015, Canada would realize an increase of $1.6 billion in GDP and a reduction in health care spending of $2.6 billion by 2040.(9)
Furthermore, CASHC provides individuals, employers, and governments with strategies to create environments that motivate people to make lasting behaviour changes. The research highlights the "urgent need to take bold new steps to support... healthier lifestyles and to create a national culture of wellness."(10)
Combating rising obesity rates calls for a paradigm shift – in which individuals are not only more physically active, but also consciously reducing the time spent in a sedentary state, so that healthy active living becomes the new normal.
Vanderijvere, Dominick, Devi, and Swinburn, The healthy food environment policy index: findings of an expert panel in New Zealand.
Bounajm, Dinh, and Theriault, Moving Ahead: The Economic Impact of Reducing Physical Inactivity and Sedentary Behaviour.
Bounajm, Dinh, and Theriault, Moving Ahead: The Economic Impact of Reducing Physical Inactivity and Sedentary Behaviour.
CASHC was created to respond to the reality that Canada's currently public health care system is fiscally unsustainable, and will not be able to preserve (or improve) health care quality without major reforms.
Katzmarzyk, "Physical Activity, Sedentary Behaviour, and Health."
Bounajm, Dinh, and Theriault, Moving Ahead: The Economic Impact of Reducing Physical Inactivity and Sedentary Behaviour.
---
Research has shown that unhealthy diets and sedentary lifestyles increase the risk of obesity.
This is why World Obesity has launched its Healthy Venues Award to encourage venues all around the world to support conference organisers, delegates and their staff in making healthier choices and to help minimise the negative health impacts of conference-going, using the opportunity of people stepping outside their routine to nudge them towards healthier choices.
Find out more here.