Road to 75th World Health Assembly
In 2020, World Obesity in consultation with its members, developed the ROOTS framework which sets out an integrated, equitable, comprehensive and person-centred approach to addressing obesity.
The framework is based on five key pillars which encompass recognition of obesity as a disease, enhanced monitoring and surveillance, prevention of obesity throughout the life course, the provision of improved health services and treatment for people living with obesity, and the need for a systems approach. Since then, momentum has been building on global obesity policy, with the development of Recommendations on management and prevention of obesity across the life course, and steps towards a WHO Acceleration Plan.
Ahead of the 75th World Health Assembly, we can celebrate how much has been accomplished. We have a huge opportunity to take meaningful steps forward in addressing obesity, but to truly deliver impact we must fully seize this opportunity or there is a real risk of leaving many behind.
Road to 75th World Health Assembly
WHO Recommendations on obesity and Acceleration Plan
In January 2022, the WHO Executive Board adopted a set of recommendations and targets on obesity prevention and management across the life course, now on the agenda at the forthcoming World Health Assembly, alongside a WHO Acceleration Plan on Obesity. Overall, the Recommendations are detailed and comprehensive, reflecting WOF priorities and building on existing commitments by Member States to address NCDs, nutrition and physical inactivity. In consultation with our members, World Obesity drafted a response to the consultation, flagging a number of important areas where the document could be improved to ensure that it is comprehensive, built on ambitious recommendations to help stimulate change.
The subsequent January 2022 Executive Board meeting led to the adoption of these recommendations and steps towards a WHO Acceleration Plan, currently under development by the Secretariat and to be discussed at the 75th World Health Assembly in May 2022. This plan will provide a mechanism to support "front-runner" countries – those with high rates of obesity and with readiness for ambitious goals - in developing and delivering national plans to meet global targets and implementing the Recommendations.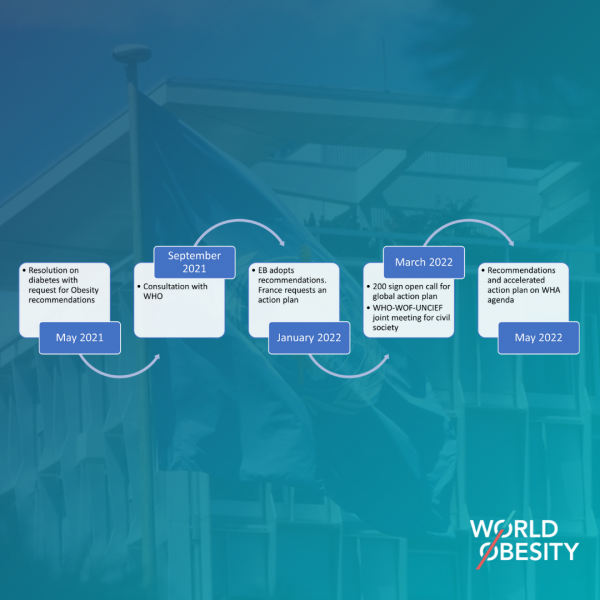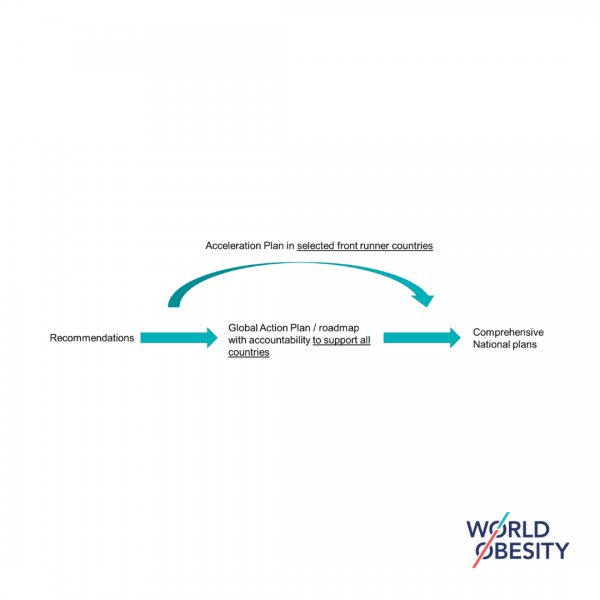 Road to 75th World Health Assembly
A Global Action Plan on Obesity: A missing piece of the puzzle
The WHO recommendations and Accelerated Action Plan are important pillars of progress, however an overarching framework which supports implementation and accountability of the recommendations is still missing . Without this there is real risk that status quo on obesity will remain.
To help fill this gap, a Global Action Plan on Obesity is urgently needed and a necessary step to ensure comprehensive and meaningful action on obesity in all countries in line with the recommendations. On World Obesity Day, over 200 patients, academics, health professionals and civil society organisations made an open call to Health Ministers for a Global Action Plan on Obesity to be developed, and demanded strong, bold, integrated and comprehensive action on obesity, with people at the heart of actions to be implemented.

A Global Action Plan can:
Serve as an overarching framework or roadmap to bring together different initiatives on obesity, and ensure integration across sectors and priorities
Provide a basis for all countries to implement the Recommendations, regardless of their starting point in terms of either obesity prevalence or obesity policy development
Support comprehensive action on obesity covering prevention and management throughout the lifecourse, both of which are vital to reduce obesity, its comorbidities, and to reduce relapse
Provide recommendations for a range of actors, including Member States, Civil Society and the WHO Secretariat
Provide a strong accountability framework for all countries, including those that are not part of included among front-runners/priority countries to track inaction as well as action
Over the coming weeks, World Obesity will continue to advocate for more action on obesity and work with Member States to ensure that the recommendations and Acceleration Plan are supported.
To support our Road to WHA campaign you can:
Join us for a member Q&A session on Monday 9th May 12-1pm BST to learn more about our ongoing work with WHO and actions ahead of the World Health Assembly, and how you can be involved. If you're interested please contact membership@worldobesity.org
Visit us at the stand at European Congress on Obesity if you're attending to learn more about what we are doing
Review the WHO Bootcamp recording and documents to support your national advocacy
Look out for more information and new briefing to support your own advocacy over the coming weeks and reach out to your Minister of Health or WHO representative, with the call to action letter which flags the need for a Global Action Plan
Get in touch with any questions, email Hannah Brinsden, Director Policy. hbrinsden@worldobesity.org
CONTACT US