Remembering Professor Philip James: A pioneer of obesity research
World Obesity Federation pays tribute to Professor Philip James, who passed away aged 85 in London.
---
Professor James was one of the pioneers of clinical nutrition and obesity research, establishing the International Obesity Task Force (IOTF), as well as serving as president of the International Association for the Study of Obesity (IASO) 2010-2014 when it merged with IOTF to form the World Obesity Federation.
In a career which spanned multiple areas of metabolic research, nutrition and public health, Professor James led a remarkable professional life.
He served as Director of the Rowett Institute, senior lecturer and honorary professor at the London School of Hygiene, advisor to multiple UN agencies, as well as near single-handedly devising the UK Food Standards Agency.
Using content from his published recollections, in the below piece we chart the development of his career, concentrating on his achievements in the field of metabolic health, nutrition and obesity.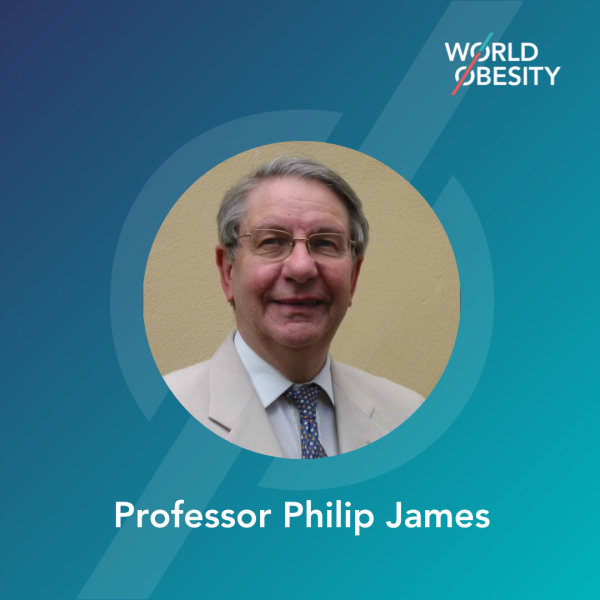 The early years
Born in 1938 to a teacher and a headmaster, Philip James and his three sisters grew up in Bala, a rural village in North Wales. James was beset by early heart and pulmonary conditions, but he excelled academically at boarding school in York, and was, slightly fortuitously, accepted into medical school by Nobel winners Julian Huxley, AV Hill and Bernard Katz, having missed the original entrance exam:
"… on arrival I was told that the exam had been the previous week. Then discovering their mistake I was taken to see three old men who asked me how I had got there. I explained I was on my way to Saltsburg with a school group in a rebuilt old burned out Rolls Royce which I had rewired. We chatted for perhaps half an hour and then they concluded with a cheery 'See you next October!'"
Upon graduation, James had a gruelling introduction to medical practice in north London hospitals before moving to research, when he was invited by John Waterlow to lead investigations in Jamaica under the Medical Research Council. There, he studied the metabolism of albumin and motility among undernourished children, leading to findings surrounding the effects on undernutrition on the insulin secretory capacity, as well as the need for electrolytes and glucose in infantile gastroenteritis treatments, research which was later adapted to treat infantile diarrhoea and cholera around the world.
---
Building a remarkable career
Back in London, James took up a post as Senior Lecturer as part of Waterlow's Nutrition Department at the London School of Hygiene and Tropical Medicine (LSHTM), an association which would last most of his life. At LSHTM, he would carry out research alongside teaching and clinical work, establishing the first obesity clinic in a UK teaching hospital.
His increased profile resulted in an invitation to the island of Montserrat to investigate the effects of nutrition on school performance, following claims about the limited support provided by the British administration. The findings on wasting and stunting among an active but malnourished child population would then be used by long-term mentor Waterlow for the widely-used classification of protein/energy malnutrition.
It was in 1971 that James' attention would turn to obesity again, with proposals to the Department of Health on the need to investigate the accelerating trend towards population weight gain, and the need for prevention strategies. The resulting working group laid the foundations for the beginning of a global obesity body, with James and colleagues making recommendations around optimum BMI ranges and encouraging the use of the index in routine assessments.
Shortly afterwards James was tasked with leading the Cambridge MRC Dunn Nutrition Unit on a shoestring budget. Here it was discovered, among other things, that basal metabolic rate was increased, not decreased, among patients with obesity, and that there was a significant genetic component to weight regulation. During this time, the broadcast media took increasing interest in nutrition and weight issues, with the BBC inviting James to develop and narrate an edition of its Horizon documentaries on the findings from the Dunn Unit. A later prime-time series examining (and improving) the food purchases of households on an inner London estate influenced millions:
"This was the first health educational series since the Second World War, so the BBC was overwhelmed with more correspondence than they had had since the war. Supermarkets ran out of the items that we had shown for only seconds, and millers and bakers ran out of brown flour."
Around this time, James authored a report published by the National Advisory Committee on Nutrition Education (NACNE) advising on the need to reduce fat, sugar and salt intakes. The report was inexplicably blocked by the Department of Health, with later revelations showing links between a major sugar company, a civil servant and a minister in an attempt to supress the results and bar its author from holding public positions in future – 'a lovely example of how the British establishment operates', as James would later state.
The first significant foray into global nutritional consultation came in 1981, when James began chairing the energy section of the FAO/WHO/UN consultation on energy expenditure rates. This body advised on global food needs based on BMR calculations carried out by James and colleagues, concluding that overall food needs would be higher than previously predicted and making recommendations for national food strategies.
Following this experience, James was asked to replicate the NACNE report on diet and health for Europe (leading to an address in Budapest Opera House in front of some 80 European ministers of health and agriculture) followed by an approach from WHO headquarters in Geneva to conduct further nutritional analysis and consumption guidance that would be suitable for poor and rich nations alike. Mirroring total fat goals already developed, James and his team made far-reaching recommendations on fibre content (including an intake of 400g of fruit and vegetables which later become the universally known five portions policy), devised early proposals for traffic light systems on food packaging, and recommended total sugar limits of 0-10% in tandem with dental experts (and later revised to 0-5%).
Once again, sugar limitations proved to be politically treacherous, with opposition from the US State Department and its Geneva representatives, who were found to be in tow to the soft drinks and American food industry, as revealed to James by an 'embarrassed' US diplomat.
---
Laying the foundations for the World Obesity Federation
James' work on obesity recommenced in 1994, following a request to produce the Scottish Intercollegiate Guidelines Network advice on obesity, constituting a simple chart to be used by general practitioners when diagnosing and treating obesity. This document later served as a template for British, European and American approaches to obesity prevention and management. The final chart also influenced the WHO policies on obesity, supported by a charity recently established by James, the International Obesity Task Force (IOTF):
"The WHO obesity policies developed from bizarre beginnings, when I was asked to undertake radio and TV work to gain international acceptance for the importance of obesity. But I knew this really required WHO to accept the importance of obesity, so first I established the International Obesity Task Force (IOTF) as an international charity based at the Rowett to develop the rationale for a change in WHO policy."
Aged 60 and faced with the prospect of enforced retirement at the Rowett Institute (which hosted IOTF), James and his wife Jean moved to north London and moved IOTF to an office nearby. In those early days, IOTF was focussed on advocating policies for obesity prevention to be used by WHO and, in turn, promoting its findings to worldwide decision-makers:
"On discovering that the full WHO report on obesity would take a long time to edit and translate into the six WHO languages, we, in the IOTF, decided to publish the original agreed-upon version of the consultation ourselves and send it immediately to all 200+ ministers of health … We also helped Chris Murray and Alan Lopez embark on their first quantification of the global disease burden, and we provided the data on overweight and obesity and assessed the distinction between the impact of physical inactivity and obesity on cardiovascular disease."
Later years were, to a significant extent, devoted to obesity research and teaching, as well as helping consolidate IASO as a formal charity and the world voice on obesity:
"We then established the International Association for the Study of Obesity (IASO) as a legal international charity and formalised the creation of the European Association for the Study of Obesity. Next we amalgamated the IOTF policy-driven charity with IASO and eventually changed its name to the World Obesity Federation. I also found myself undertaking a lot of teaching on obesity."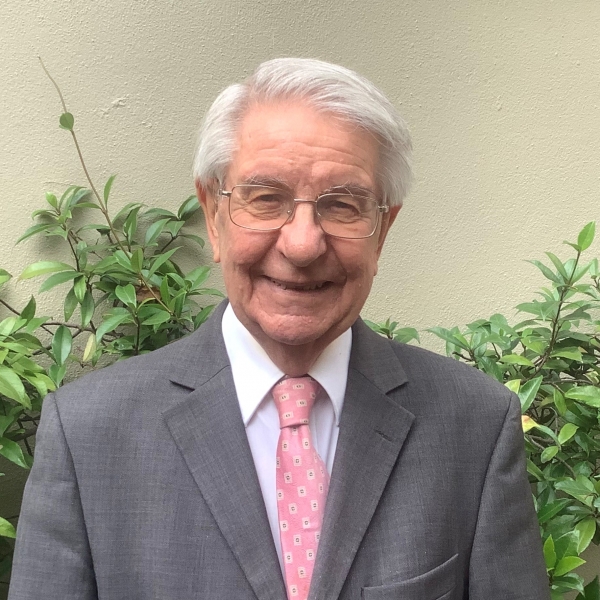 Though his contributions to fields of clinical nutrition, metabolic medicine and public health are too numerous to mention, World Obesity and its members will particularly remember his colossal contributions to obesity prevention policy and science globally.
In Professor James, World Obesity members found a charismatic and helpful champion who contributed to the expanding body of obesity knowledge worldwide, and who would readily make contributions at nutrition or obesity congresses organised by members around the world.

Professor James is survived by his wife, Jean, his children Claire and Mark, four grandchildren, and his three sisters.