Meet our Members - Desiderata Institute Brazil
'Meet our Members' is a series of interviews with World Obesity's members where they talk about their organisation, purpose, projects, challenges and successes. We also hope that it may identify opportunities for members to connect with and reach out to each other to share experiences, ideas, and advice.
---
Meet the Desiderata Institute - a Brazilian non-profit organisation conceived to improve public health for children and adolescents.
---
Tell us about your organisation and its main purpose
Within the broader agenda of non-communicable diseases (NCDs) and their risk factors, we focus on the two main issues affecting Brazilian children (aged 0 to 19), namely childhood cancer and childhood obesity.
For the past 19 years, we have been working to promote early diagnosis and treatment of childhood cancer by focusing on the systematization of the referral flow from the primary healthcare centers to specialized hospitals in the Brazilian National Health System (SUS in Portuguese). Since 2019, we have been working to reduce childhood obesity.
To do so, we provide integrated solutions for strengthening child public health, including advocacy actions in the legislative and executive branches, awareness campaigns, training of primary care professionals, humanization of care at public hospitals, community mobilization actions, and partnerships with the public and private sectors and the civil society.
---
What projects are you currently working on?
On our childhood obesity front, we currently have four major projects aimed at raising awareness of the topic, disseminate evidence-based information, improve data accessibility, improve patient healthcare trajectory and professional qualifications, and to approve meaningful legislation at the local level.
Meet our Members
Upcoming Projects?
We plan to replicate and expand on our ongoing programs in other municipalities. While our patient healthcare trajectory project and advocacy actions are in their pilot stage, we plan to copy the actions in other municipalities and help in the implementation process of the new enacted laws.
Since 2020, Desiderata Institute has been shifting its focus from the local level to the federal level in relation to the dissemination of evidence-based information, and this trend is expected to continue in the years to come, with increasing nationwide projects.
Picture right: Desiderata Institute's Executive Director, Renata Couto, and Raphael Barreto, Childhood Obesity Coordinator, at a roundtable on the Online Panorama on Childhood and Adolescent Obesity in July 2022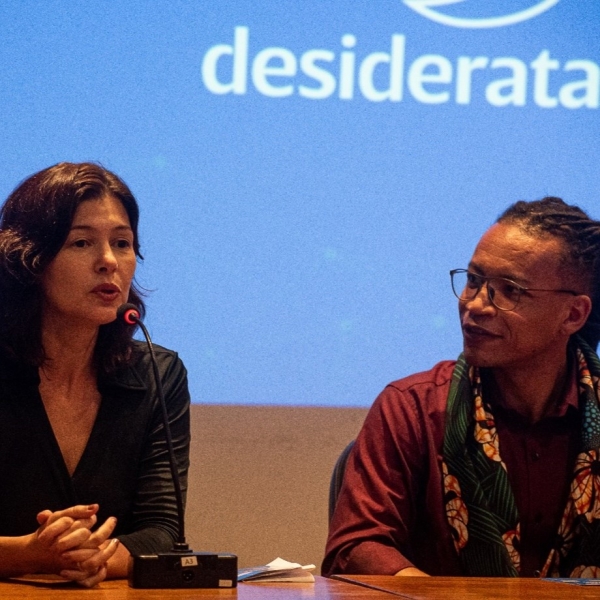 What are the greatest challenges that your organisation faces regarding the prevention, treatment and/or reduction of obesity and overweight?
A major challenge that we are facing with our advocacy actions is the UPP industry interference that is trying to block or modify and strip bills of their intended purpose of reducing the consumption of UPP by children and adolescents. We are also at a disadvantage when trying to frame this debate to the public due to the limited reach of our communications campaigns. The communication surrounding childhood obesity to a broader audience as well as to health professionals is challenging for a number of factors, but mostly because we aim to shift the focus from individual choices and habits to the need for the development of public policies that ensure healthy food environments. Weight stigma and the sidelining of childhood obesity also hinders an open and evidence-based debate.
---
In your opinion, what action/s (by global organisations, local governments, healthcare professionals, etc) do you think could have the most impact in reducing the burden of this disease?
We strongly believe that to make progress to prevent and reduce overweight and obesity numbers in children and adolescents it is crucial to pass legislation that promotes healthier food environments. Among the most effective policies, we work to ban sugary drinks and ultra-processed foods in public and private schools, to regulate food advertisement aimed for children, and to promote breastfeeding and facilitate expressing and storing breastmilk during working hours. We also support sugar tax policies, front-of-package labelling (that should be implemented nationwide this October), and similar measures. We also believe in the importance of training primary care professionals on how to properly address overweight and obesity in children and adolescents, stressing its multifactorial sources and the need to avoid perpetuating weight stigma.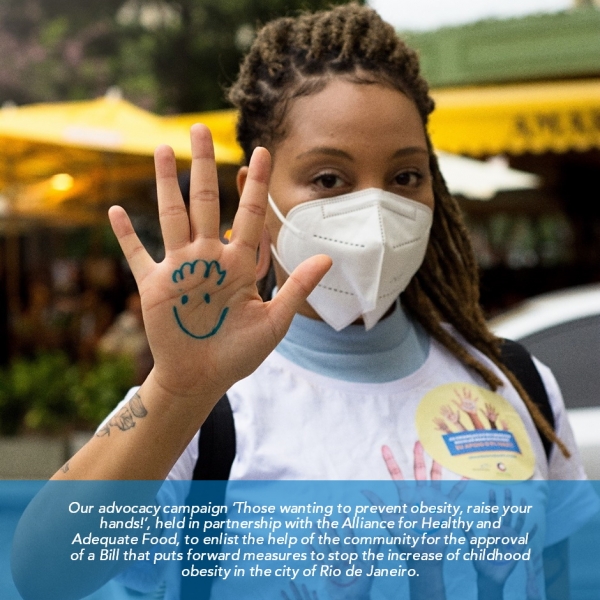 Meet our Members
In which areas does your organisation need the most assistance?
While collaboration is the backbone of our work since a united front is necessary to change the current obesogenic environment, securing funding for advocacy actions in the legislative and executive branches is our main challenge, especially because, in Brazil, most donors prefer to support short-term projects where children and adolescents are the direct beneficiaries rather than collaborative, evolving approaches to create lasting change through the enactment of public policies, laws, and budgets.

What initiatives have you undertaken that you believe have had a significant positive impact for people living with obesity and overweight?
The joint development of a Patient Healthcare Trajectory has the potential to improve care to the most vulnerable children and adolescents that are users of the SUS and set a model that can be replicated in other municipalities. While all other working projects have great potential to improve the lives of children and prevent obesity incidence, they are long term programs that will not have an impact on children currently living with obesity. That is why the development of this patient trajectory within the SUS is so important, since its results can be seen in the short term. This project is expected to be fully implemented in Niteroi until the end of 2022 and will have a direct and immediate impact in the care given to children and adolescents living with obesity and overweight.
---
You can read more about the Desiderata Institute on our website.
Interview date: October 2022
---
Please connect with us if you are an existing member and wish to be featured in an upcoming installment. You can email us on membership@worldobesity.org.
Membership
Read more about World Obesity membership options and benefits, and find out who our other members are here.
Our Members