Dr Georgios Valsamakis awarded SCOPE International Fellowship
We are thrilled to announce that Dr Georgios Valsamakis of Athens, Greece, a renowned figure in the fields of endocrinology, diabetes, and metabolism, was awarded the prestigious SCOPE International Fellowship in June 2023.
---
This accolade stands as a testament to his dedication and immense contributions to the field of obesity medicine.
Dr Valsamakis was previously the recipient of a SCOPE National Fellowship in 2011. He is employed by the Ethnikon and Kapodistriakon University of Athens and works in Aretaieion University Hospital. His vast roles include serving as an Endocrinologist at the Centre for Obesity and Metabolism (COM), where he collaborates with the University Surgical Department in treating patients with morbid obesity.
Furthermore, at the Second University Department of Obstetrics and Gynecology, Dr Valsamakis works as an Endocrinologist in the Fetal Maternal Unit, focusing on metabolic disorders during pregnancy. He also dedicates his expertise at the IVF Unit, assessing couples with metabolic disorders. In addition to these roles, he's also responsible for inpatients. Outside of Aretaieion, he serves as a postdoctorate researcher and educator in the University's two-year postgraduate program 'Research in Gynecologic Reproduction and Endocrinology'.
Adding to his list of esteemed titles, Dr Valsamakis holds the position of European Scope Fellow in Obesity and the title of Assistant Professor of Endocrinology at the Medical School of Larissa, University of Larissa.
He also collaborates as a visiting Associate Clinical Professor at the Department of Diabetes Metabolism and Endocrinology, University of Warwick, UK.
SCOPE International Fellowship
Central to Dr Valsamakis' research endeavors is the study of maternal metabolism during pregnancy.
He delves deep into its influences on pregnancy outcomes, fetal growth, and the implications it has for future metabolic diseases.
He is currently coordinating two significant projects:
the effects of hypothalamic inflammation in metabolic and reproductive disorders in women with PCOS, and
the appearance of early puberty in girls with obesity.
Beyond his research, Dr Valsamakis has been a stalwart in the academic sector, lending his expertise by teaching and supervising research for students in the aforementioned postgraduate program.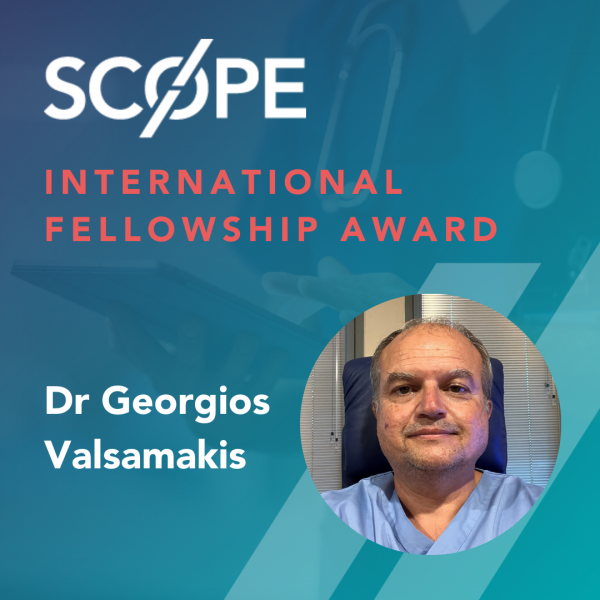 His academic journey saw him complete clinical training in Diabetes and Endocrinology at the University Hospitals of Birmingham, UK. In 2003, he submitted a groundbreaking thesis titled 'Assessment and Pathophysiology of Central Obesity and its Connections with the Metabolic Syndrome' to the University of Birmingham.
We congratulate Dr Valsamakis for this well-deserved recognition and look forward to witnessing more of his impactful contributions to the medical community.
---
SCOPE Fellowship is the most prestigious award offered by SCOPE, recognising outstanding healthcare professionals in the field of obesity management.
International Fellows are world-class experts in the field of obesity management, identified by a SCOPE search committee.
SCOPE Fellowship
To learn more about SCOPE Fellowship, both National and International, please visit this link.
SCOPE FELLOWSHIP