Childhood Obesity: Maintaining momentum during COVID-19
This week in Geneva and online, Member States of WHO are meeting for the resumed World Health Assembly (WHA). Globally, an estimated 50 million girls and 74 million boys aged 5-19 years are affected by obesity.
Despite sustained efforts to halt the rise, no country is on track to fully implement the targets set out by the 2016 World Health Organization Commission on Ending Childhood Obesity (ECHO). Rates of childhood obesity are rapidly rising in low- and middle-income countries, yet the issue is not on the agenda of the WHA. As governments continue to fight the COVID-19 pandemic, it is vital to maintain momentum on childhood obesity - a pandemic already affecting millions of the world's most vulnerable children.
Thankfully, children are rarely seriously affected by medical complications of COVID-19 itself. However, there are indications that young people with obesity are at higher risk of severe outcomes. The measures taken to curb the COVID-19 pandemic are also likely to increase health inequalities, with consequences for the poorest children when, for example, schools are closed. During this time, it is essential to maintain momentum on childhood obesity, while ensuring policies to promote child health are included in efforts to build back better.
In this policy brief, produced with the support of Salzburg Global Seminar, World Obesity has collaborated with researchers from the Institute for Health Transformation (Australia), Harvard T.H. Chan School of Public Health (USA), Royal College of Surgeons in Ireland, Hong Kong University of Science and Technology, and the European Association for Research on Obesity in Childhood. We identify points of intersection between COVID-19 and childhood obesity prevention and management, highlighting three priorities for government action: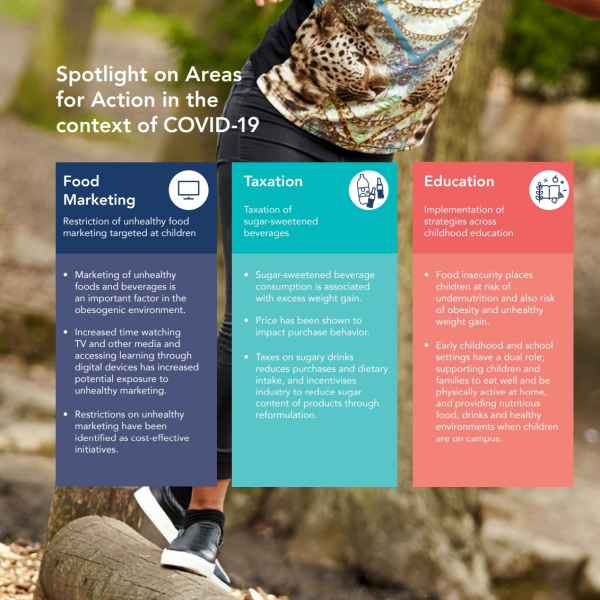 Download our new Policy Brief
Childhood Obesity: Maintaining momentum during COVID-19
New policy brief from World Obesity, focusing on Childhood Obesity and COVID-19.
Download (1.41 MB)
All Member States have a responsibility to build healthier, more resilient populations. Tackling childhood obesity must be part of national strategies for COVID-19 in the short- and long-term. Building on the evidence review in our new brief, we call for policymakers at the resumed 73rd WHA to:
Ensure nutritionally adequate food is available for all children in need, especially during school closures;
Ensure policies and restrictions in place to limit the spread of COVID-19 allow for children and young people to be physically active while remaining safe;
Fully implement WHO Recommendations on the Marketing of Foods and Non-alcoholic Beverages to Children;
Integrate sugar and sweetened beverage taxes as part of strategies to reduce childhood obesity and build forward better from COVID-19.
Contact us
Any questions about what you see here? Contact our team for further information.
Contact us