Why collecting data on obesity is important and what World Obesity are doing about it
This August, World Obesity are launching our new and improved Global Obesity Observatory. We have long collated obesity data, and have been committed to sharing data within journals, publications and via membership networks since 1998.
Back then, the collection of obesity data was rare, limited and not perceived to be as a priority by health professionals and policymakers. As overweight and obesity levels have risen, however, there has been increased recognition of the importance of being able to put a name (and number!) of the scale of the challenges we face. We first launched our interactive website in 2010 and have updated and maintained our website ever since. Times has changed, though, and the time has come for a complete overhaul. We look forward to launching our new and improved Global Obesity Observatory later this month!
Why collecting obesity data is important
First and foremost, the systemic collection of obesity data enables us to determine the scale and scope of the number of individuals living with the disease. It is now widely argued that we are in the midst of an obesity pandemic, and relatedly, a global syndemic of obesity, undernutrition, and climate change. The high rates of obesity not only impact the health and wellbeing of individuals living with the disease, but also effects families, communities, local and national economies, and health systems. We are also currently seeing in real time the way the obesity pandemic interacts with and amplifies other global health challenges, with evidence pointing to obesity as a major risk-factor of severe COVID-19 disease.
Reliable obesity data collection is also important to allow us to monitor the progress and effectiveness of obesity-related programmes and interventions. While independent evaluations of such programmes and interventions are a must, routine national data collection can act as an additional means of determining the impact of national initiatives such as sugar taxes and mandatory food labelling.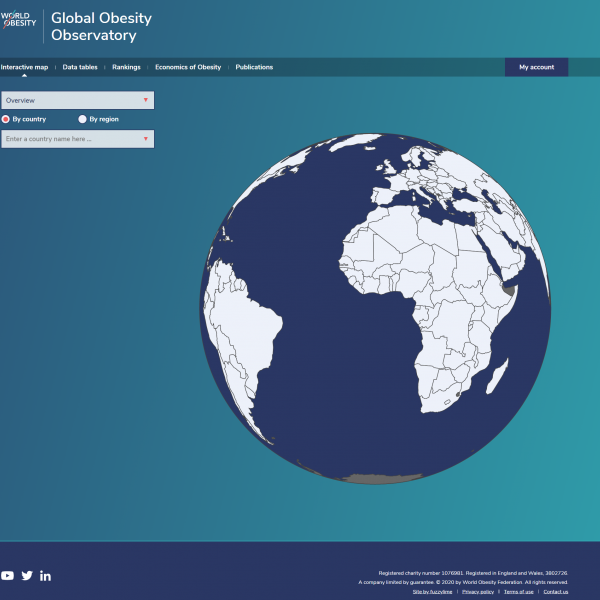 Obesity data collection done well - with large, nationally representative sample sizes - should also allow us to determine which sections of the population are at greatest risk, such as ethnic minorities and those of low socioeconomic status. This information is vital and should inform policy decisions and guide targeted interventions.
Finally, the ROOTS Declaration - that was launched on World Obesity Day 2020 - places emphasis on the importance of obesity data collection. The declaration - that obesity organisations from around the world contributed to - gives areas for policy advocacy that address the multiple causes of obesity (the 'roots'). It is pertinent and no coincidence that the first 'O' stands for Obesity monitoring and surveillance.
With all this in mind, World Obesity calls for the routine, systematic collection of overweight and obesity in all countries.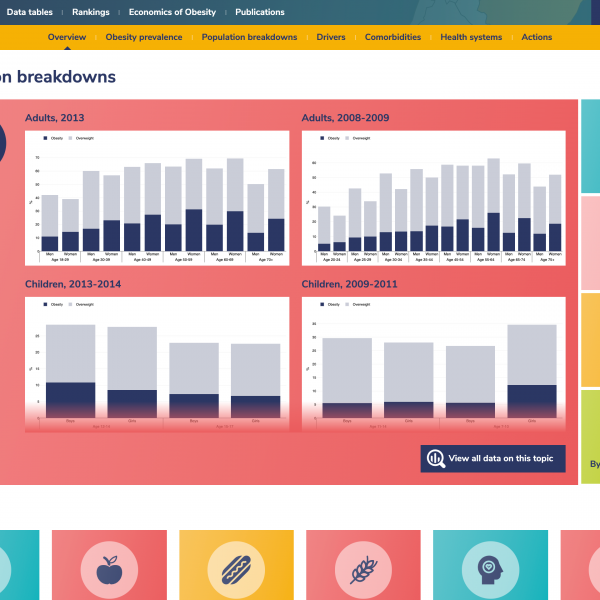 Global Obesity Observatory: new and improved
Our new website is more interactive and has more data than ever before, with a suite of new features. It aims to be the first point of call for obesity and obesity-related data for researchers, policymakers, health professionals and members of the public. Information is collected on obesity prevalence and trends, the prevalence of selected drivers and comorbidities of obesity, the economic impact of obesity, health systems, policies and more.
New & improved features include:
Country and regional views
Downloadable graphs and trends charts
Country and regional report cards
NEW: Ability to create personal accounts for extra features
NEW: Chart builder – create and save personalised graphs
NEW: Create and save customised PDFs
NEW: Interactive data tables with regional and world views
NEW: Interactive ranking tables (estimated data)
NEW: Economics of obesity (coming soon!)

It is our pleasure to invite you to explore our website and spread the word on the importance of obesity data collection. If you have any questions, are aware of any data in your country that you think should be on the website, or have any feedback, please do get in touch at obesity@worldobesity.org.
Enjoy!
Visit the new data site
Find the new World Obesity Data site here.
This article was written by World Obesity's Jaynaide Powis and Rachel Jackson-Leach.
WORLD OBESITY DATA