2022 in review: Desiderata Institute
The Desiderata Institute, headquartered in Rio de Janeiro (Brazil), concluded a highly productive year with a major win in our childhood obesity advocacy front.
---
In the first week of December, the Niteroi City Council members voted unanimously to pass bill number 95/2022, which bans distribution and sale of ultra-processed food products (UPPs) in public and private schools in the municipality of Niteroi. The bill now goes to the executive for final approval and rules of implementation.
Niteroi is the first of 92 municipalities of the state of Rio de Janeiro to pass legislation to ensure that children and adolescents have access to healthy school meals that are rich in nutrients and free from sugary drinks and ultra-processed products. And it will certainly serve as a model for others!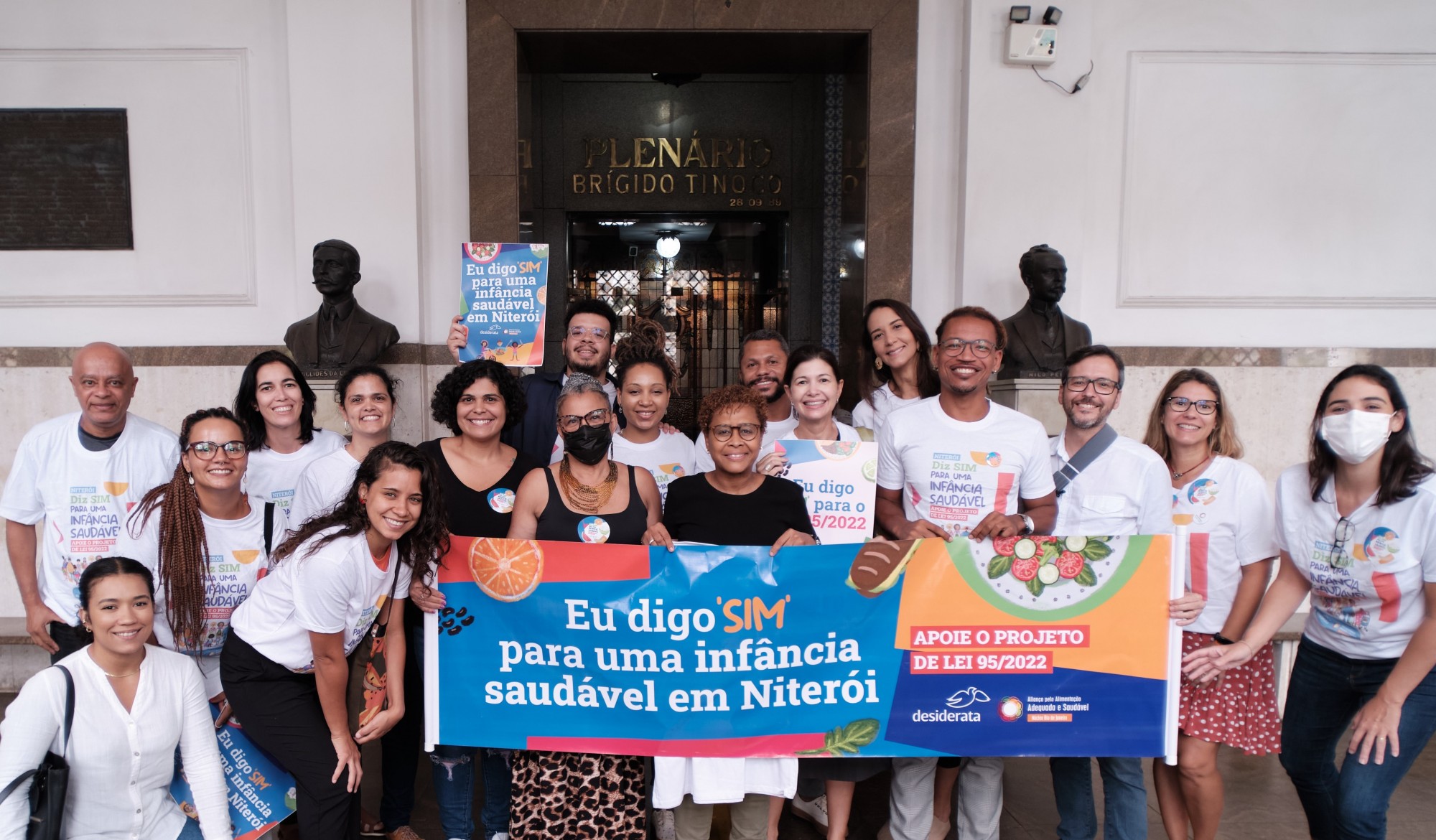 Photo above of the second voting day, after it was voted to pass. The banner says: "I say yes to a healthy childhood in Niteroi. Support bill 95/2022"
---
Other highlights of 2022:
Aside from Niteroi, we have two other advocacy fronts, one at the state level and another at the municipal level in Rio de Janeiro (bill 4198/2021 and bill 1662/2019 respectively). Both have also passed their first voting rounds but received amendments and are now waiting for their final voting rounds.
2022 was also a busy year for our online training program. More than 730 primary care professionals in the state of Rio de Janeiro received training on the basic principles of care for children and adolescents that are overweight or living with obesity. We also developed a new course focused on the practical tools available for all health providers in the SUS (Brazilian National Health System) to address childhood obesity, which will start its first classes next year.
Another important achievement is the development of a Patient Healthcare Trajectory in two health zones of Niteroi through a partnership with its Municipal Department of Health. This project aims to systematise the referral of patients that are overweight or living with obesity, creating a roadmap for primary care professionals, providing information on which specialists should be involved in treatment, including when and where the users should get care. Instead of creating new services, this project aims to integrate and potentialise existing actions and services by making them talk to each other and have a clear patient trajectory for overweight pediatric patients, depending on their specific needs. It also aims to provide educational materials and joint actions that can help families and caregivers learn more about obesity and how to prevent it.
Finally, we have also launched an updated version of our Online Panorama on Childhood and Adolescent Obesity, which is a platform that aims to improve data accessibility and substantiate our strategy of disseminating information to support data-driven policymaking. The Panorama is a dynamic and user-friendly online tool that shares data from the Brazilian National Food and Nutrition Surveillance System (SISVAN). It provides data on nutritional status and food intake of children and adolescents that can be sorted by sex, age, race, and place of residence.
Visit The Desiderata Institute
Find out more about The Desiderata Institute and their ongoing obesity projects.
Desiderata Institute