2021 in review: Sociedad Mexicana de Obesidad (SMO)
This year SMO (Sociedad Mexicana de Obesidad) held a range of excellent academic activities, under the common objective of developing skills and abilities in the management of obesity and its comorbidities.
SMO hosted 10 academic sessions endorsed by the Autonomous University of Nuevo León, which had curricular points for certification purposes. SMO also developed 8 webinars in which more than 40 professors from different countries participated, and 24 conferences, with 24 question and answer sessions.
To celebrate World Obesity Day, we developed the program "World Obesity Day Learning Route - Mexico", which was aimed at health professionals and included five academic sessions, fifteen lectures and five question and answer sessions. These activities were very successful due to the support of international speakers from WOF, during which four SCOPE points were awarded.
SMO
We also hosted a series of virtual races, with distances between 1 and 5 kilometers. Both patients and physicians participated in this hugely successful activity.
SMO also hosted its International Congress, with the participation of 81 professors of the highest academic level, and 85 papers and 17 research papers were presented, the meeting had continuing medical education points by the School of Medicine of the University Autonomous of Nuevo León, and 4 SCOPE points were awarded for the international certification in Obesity of the World Obesity Federation.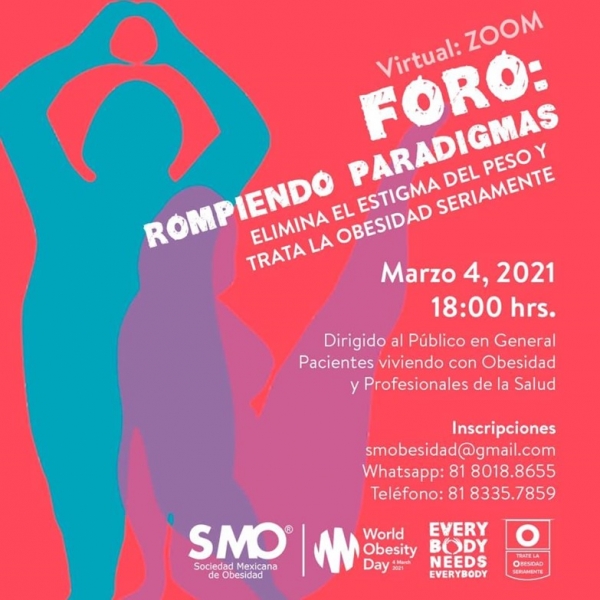 To end the year, SMO held its traditional Christmas party, where a dynamic round table discussion was held on the theme of "Health Professionals as Agents of Change", with SMO President Dr. Ricardo Luna giving a speech to express best wishes for 2022.
Read the full SMO Report from 2021 here.